Camping Without a Tent
November 13, 2017
During the summer of 2015, I went camping with my Boy Scout group. We were going on a two day hike and I was very excited. I thought that I knew what to bring, so I did not check the packing list to see what I needed to bring, which turned out to be a very bad decision. I quickly packed what I thought I needed: clothes, rope, a big tarp, and a few other things. I was very excited, and when I arrived at the trail, I was very satisfied and marveled at my surroundings. I saw the beautiful leaves, and the sparkling water from the nearby creek.

We started the walk on our trail and I noticed that everyone had bigger backpacks than me. I thought nothing of it and continued to walk down the trail and enjoy nature. After about five miles of hiking, we reached our campsite and everyone started to set up their tents. I immediately remembered that I didn't pack one so I felt very anxious. My friend, who, for the sake of his privacy, we'll call him Elliot, also forget his tent and looked equally as nervous.

I asked him "Do you know what we should do for the tent?"
"No," he replied, "but I do know that we need to find a way to make one soon. It's almost 9:00, so we better hurry up."
Both us tried find out how to build a makeshift tent. Our minds were racing as we tried to recall the lesson we learned about what to do if you don't have a tent.

Suddenly, I remembered the big tarp that I brought and thought we could use that to make a tent. I told him the idea and our plans was to find four long pieces of wood about the same length and use them for the structure. We would whittle them with our pocket knifes so that they wouldn't make a mess. After that, we laid out the large tarp, and cut it into four pieces. One of them would be placed on top of the dirt, and another piece was wrapped around the pieces of wood, which we tied together with our rope and we made small holes in the ground to place them in so they wouldn't move. Once wrapped around, the tent resembled a blue teepee. We decided to use the other pieces of tarp and duct tape to make sleeping bags. We wrapped the tarps around ourselves many times and then used duct tape so they would stay in place. They were a little bit too big, so we cut off part of the top and folded them to make makeshift pillows. We also wore our sweater and socks when we slept to stay warm. We sealed the entrance of the tent with duct tape, and even though it was not the most effective thing to use, it got the job done. We slept pretty well and thankfully, it did not rain that night, so our tent stayed intact. After that we took down the tent and rolled the tarp up.

The next day we hiked some more and found another camping spot. Elliot and I found new pieces of wood a repeated the same process. The day after that, we finished the hike and returned home. I was pleased with myself for coming up with the idea of the makeshift tent, but I also learned a very important lesson: be prepared. I completely went against the Boy Scout motto, which is the exact same thing. Now I don't forget anything when I go places like camping sites.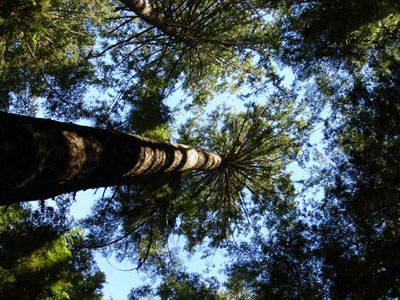 © Janine M., Winnipeg, MB, Canada