October 9th, 2017
October 10, 2017
October 10th, 2017
As I opened the door, my eyes landed on a blue tan legged beauty. Her black strappy heels took her 5'6" height to a 5'8". She was wearing a shimmering blue dress with a sweetheart neckline that started as dark blue at the top and faded to a light blue.  Her brown eyes popped with the makeup she put on, which was a rarity because she always said makeup was too annoying. Also she had straightened her beautiful brown hair, which curled when she left it alone. Taking all this in, I opened up the door, smiled, and said, "Tabitha."
I looked in the floor length mirror at my black and white two-piece dress as I waited. I nervously messed with my faded blue hair making sure it was secure in the braid my mother put in. If you had told me 2 years ago that I would be taking my girlfriend to homecoming my sophomore year I would've told you that you were crazy. But there I was nervously playing with my outfit, waiting for her to show up. I thought about all the memories, good and bad, we had made so far. The first time she asked me out, the time we broke up, the time we got back together, when her sister came up to me in the hall to tell me she liked me, and when I came out so I could date the beautiful girl in my 1st hour.
I meet Tabitha freshman year in computers class. Freshman year was a very hard year for me. All of my close friends had bailed on me the summer before for one reason or another. When I was going through an hard time, Tabitha was one of the only people to understand what was happening. She saw my scars, my trust issues and she didn't care because she understood what it was like to feel completely alone in a sea of people. She understood and I had never been so grateful to be with someone at 7:25 am.
Over the summer, around 8pm on a cool July night. I had just gotten a call from Tabitha telling me to come outside but not explaining why. I had been waiting for about ten minutes and just as I'm about to go inside I see Tabitha riding up on a bike. She rode her bike 7.5 miles from her house, just to come see me. We hadn't gotten to see each other over the summer since we were broken up but I saw her and I ran. I ran and hugged her as closely as I could.
I remember our biggest fight. It broke us up for an entire summer. I cried so hard. I was sitting in my gray and purple bedroom clutching my phone as big fat tears rolled down my face. I had thrown my pillow, knocking down a lamp on my dresser. That was the night before we broke up. The night when Tabitha said, "Maybe we shouldn't do this anymore."
Be with someone who is willing to bike 7.5 miles for you. Be with someone who gives you headaches. Be with someone who cares. But most importantly know that no one is 100% perfect; they are gonna have their good days and their bad days. Knowing and learning that is what got me to October 10th, 2016. Homecoming Day. My favorite memory. The gym smelled of perfume and high schoolers without deodorant. The lights of the deejay danced off everyone's faces as they danced with each other. The heat of the gym made it difficult to be in the gym and yet…  in the middle of it all, two girls dancing. Two girls singing to their song. Singing quietly to one another as they slow danced. Singing quietly as the world faded away.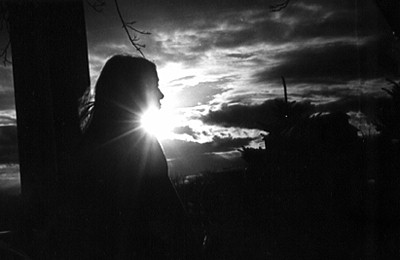 © Elizabeth G., Marblehead, MA