Yellow Flowers
July 17, 2017
When I was younger I would pick the yellow dandelions that littered my front lawn. I held the vibrent flourishes in my chubby clenched fist, proudly thrusting them before my mother's face. For years she accepted them graciously, but after years of collection, my mother would thank me for clearing her kelly lawn of the scattered yellow atrocities, but remind me that the beloved dandelions kept tiny shot glass on my bedside table were nothing but weeds.
As I aged, I moved on from my days of picking dandelions and began to scout out buttercups, a more mature yellow flower. "Do you like butter?" I'd ask my giggling friends, holding the frail blossom between my frail fingers beneath their smiling chins. Their skin would glow in reflection of the yellow blossom exactly the way my soul did. I continued picking the sprouts years after my friends' giggles ceased. "They don't actually tell you if you like butter, you know?" I was reminded time and time again as I plucked the tiny stems from the playground grass.
A few years later at my grandmother's funeral, a single yellow rose fell at my feet from a bouquet as she was placed gently in the ground. I reached down to retrieve the fallen flower, its petals bright and young. My mother kissed my forehead as she regarded the beauty held between my small fingers. I felt a tug in my already fallen heart as I stared down at the rose separated from the bouquet resting upon the shining headstone. A parting gift from my grandmother, perhaps, but I couldn't accept her generosity at a time like this. Along with a single tear, I tossed the tiny piece of sunshine into the dirty pit beside the buried ashes of my grandmother. I stood back in my mothers arms and watched a joyous piece of my world disappear, my yellow rose along with her.
Days later, upon visitation, I stood next to the brightly coloured blossoms atop my Nanny's grave. At this point I could hardly bare to see the colour I had once adored as it was now associated with the death of a loved one. As I turned to leave, I noticed, like a dandelion in my mother's perfect lawn, a yellow rose next to my foot in the emerald grass tickling my toes. I knew as I admired the flower at my feet, that my grandmother, who remembered each of my phases (dandelion, buttercup, yellow tulip, and daffodil), was encouraging the continuation of my colourful happiness.
I dried my Nanny's rose and never stopped picking yellow flowers. I drive my friends mad, stopping every chance I get to pluck a tiny yellow dandelion in a field of red roses. In my hair, between my fingertips, engraved in my soul, yellow flowers, a tiny part of life, invigorate my tired soul. Find your own yellow flower, and then find them wherever you go. Find beauty in the ugly, because after all, dandelions are nothing but weeds.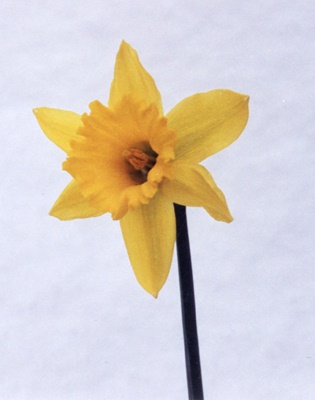 © Kaitlyn H., Ludlow, VT