Concrete Uncertainties
June 28, 2012
The elevator jolted to a stop, doors sliding open in time with a recorded woman's voice telling us that we had reached the sixth floor of the parking garage. "Have a nice day," the voice droned on, "and thank you for visiting the Trump Casino and Resort." We were stalling for time, something we were good at, being 15 year olds. While her father waited in the car on the roof and his friend was inevitably losing in the casino, we were to take our time getting to the car to make his hour of gambling seem less than it really was.
           
We stepped up to the edge, looking out from six stories above the busy streets. It was dark, a half hour past ten at night, and yet the streets seemed busier than they had in the day time. Watching people below was nearly impossible; blindingly bright lights seared our eyes if we tried to look down, so the cityscape was the focus of attention for us. Atlantic City, New Jersey was lit up for the night; street lamps and limo lights and one rather interesting neon purple skyscraper cast an eerie glow to the edge of the ocean visible still to us, the boardwalk mostly deserted. The sand itself seemed to slow the creeping lights until the shadows turned into an endless tide of the blackest ink.
           
There were too many lights in such a small amount of space, yet in some areas it was far too dark. Directly next to a casino cowered a hunched over building falling to shambles. People passed it without seeing it; it was not metal and lights and advertisements molded into what those people considered beauty. How many people were under all of those lights? How many people were sitting in their rooms watching TV or reading or eating or getting drunk? There were too many people and too many lights compared to the beach, a dark graveyard next to the towering buildings.
           
The city felt cold. Not in a sense of temperature, but rather of mindset. There was something sinister and foreboding under the cover of those neon signs, something desolate and terrified of fear among all of the people. The city line felt as estranged as the harsh waves, the anonymity in the crowds far too overbearing. I turned away from the bright light, sinking to the concrete with my eyes shut. I had never felt more alone in the world than I had there looking out at that city.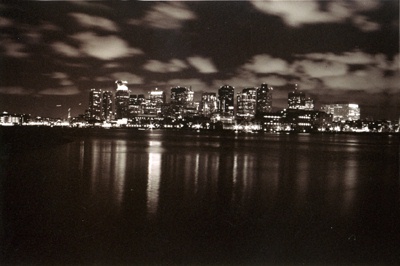 © Hoang P., Rochester, NY