When Things Fall Apart
May 17, 2012
There is absolutely nothing worse than watching your entire world shatter before your eyes. In an instant, you are left to feel alone, scared, angry, or even worse, you may feel nothing at all. The numbness is a combination of all these emotions, and when the numbness wears off, the pain cuts like a knife. There may be no physical wound, but the internal wound is prevalent. It is infectious and the pain spreads through your entire life. When the pain, an inevitable feeling of failure, spreads, things begin to fall apart. It cannot be stopped; it cannot be toned down. Like a crash course dummy, you sit strapped in a disposable vehicle that represents your life, speeding down a highway, knowing the entire time that you may crash into anything at any given moment. The worse part about it is that you'll have to sit there in that car engulfed in flames while those passing by watch you burn, while some criminal or some undeserving monster makes it safely to his destination while your life falls apart.

Though the pieces of one's life are intangible, they remain present when the whole thing falls apart. The sensible thing to do would be to pick all the pieces back up, one by one, and reassemble, but the dilemma always seems to be that one tiny little piece, that one missing screw that keeps you from repairing the whole thing. Unlike a store bought item, there are no directions explaining how to put a life back together step by step, and even if you can manage to figure out where everything goes, there's always one piece that's dented, scratched, or just not usable anymore. These pieces can't be returned or exchanged; we're forced to go on living without them. Sometimes those pieces are our heart, our soul, or even our mind. We can never manage to piece the parts back together just as our assembler from the heavens did. We are forced to carry on with the flawed pieces or fragment of pieces until the end, that is, if we wish to make it to the end. Each scratch, each bruise, each scar unwillingly tells the entire world the story of when things in that life fell apart. Life, confusing and tormenting, will no longer make.

When you've finally accepted that these things have, in fact, fallen apart, you can do one of two things: figure out where you went wrong and move on, or you can just give up. Of course, moving on requires more work and is more painful than giving up could ever be. The hardest part is accepting the changes that have occurred and will continue to occur since things in your life have fallen apart. You must travel that dreaded road of time all over again, patching everything that's fallen apart while on your lonesome journey. Such tasks are unavoidable, but the decision to keep moving forward is the first and most important task to putting things in your life back together again. The struggle will make you stronger, and in the end, you will be sure that each piece of your life that has fallen apart is repaired to the fullest, and chances are, they will never fall apart again in the same way.

If you choose to give up, you will have to accept the fact that you have failed, and even worse, you did nothing about it. You will go through life with an I-am-a-failure attitude. Feeling like a shopper with no basket, you will have to walk the rugged road of life with all of the things that have fallen apart in your hands, and the burden of each load will weigh heavily on your heart and conscience. Since you will never be able to piece them back together stably, as a result, you will live an unstable life. Things is your life will always fall apart. Because you refused to risk anything, you will lose everything.

The truth is that everyone reaches a point in life when things fall apart. The effects are devastating, and putting the pieces back together are even worse, but the experience does give one time to ponder what actually makes things fall apart. Is it stubbornness, the refusal to accept change? Or is it just a pivotal moment in life presents the option to get stronger? It is a combination of both, a test of the will and a test of strength?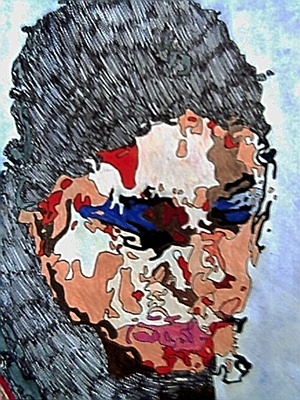 © Sarah A.,Morristown, TN