Cabrito
May 15, 2012
My goat's eyes flashed with fear as I clenched his collar. His many different attempts to escape my death grip left me out of breath. My hand clasped around my goat's coarse hair as he snorted out warm air from his brown wet nostrils. My knee dug like a knife into his ribs, and I was certain the huge beast was defenseless. As I used all of my might to keep my goat from jumping on me, I couldn't help but keep wondering what made me think showing a goat would ever…ever be a good idea.

My mud splattered boots settled into the loose dirt of the show arena as I waited for the judge to make his way over to me. His spurs jingled as the heavy man turned in my direction. The judge was serious, his eyebrows furrowed on his face, his forehead produced a deep wrinkle, and sweat began to form above his lip. His serious cat-like eyes stared down my goat. My hard work of the past months all weighed on this man's shoulders. Standing there awaiting his decision my stomach felt as if it were filled with mice doing cartwheels. At long last the judge stared, the judge scored, and the judge said my goat made the sale. Walking to the winner's stage in the arena happiness embraced me. My smile was engraved on my face as I continued to think about what a spectacularly superb day it had been.

After the experience with Cabrito, I now have a whole new way that I view the animals at my grandmother's farm. The cattle have always been just a business, but now I love to walk to the herd and look over the calves. Last year we had several new calves, two of which were unhealthy and very small. I would spend the whole afternoon following just to make sure the other cows were gentle with them. Like Cabrito, they are dependent animals, needing love and attention. Many times I would call my grandmother to ask for updates on the small calves. Several months went by and I paid a visit to the ranch. I looked for the small calves and couldn't find them. Later, I found out that they grew to the point that they looked so much like the other healthier calves you couldn't tell them apart any longer. Yes, I have become a softy with animals and I really believe it was the time I spent with Cabrito. May I add, I will never eat cabrito, the Spanish term for cooked goat meat.

The ribbon displayed in my room is a constant reminder of choosing, grooming, and losing a short term friend and responsibility. Although it hurt to know Cabrito would actually turn into cabrito I choose to remember the good times I had with him, not his end.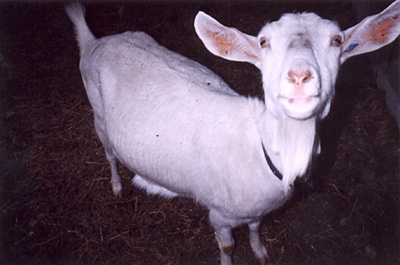 © Todd C., Wilmington, MA