The Journey is the Reward
May 14, 2012
When was the last time I was truly happy and at peace? Sometimes life is tough; the world around me is moving too fast, and the people around me are changing too much. It's hard to remember when I was truly carefree and not so unsure about myself and life. There was a time, though, where all my problems didn't exist and the worries left my mind for a while.

It was a warm summer's day when my family and I packed our bags and left for paradise. For some reason, my parents thought it would be a great idea to drive all the way to Myrtle Beach instead of flying there…which, by the way, would have been faster.

I was against driving. I hadn't been in a plane for a long time, and I wanted to be able to do it again. I wanted to be in the sky, looking down on all the tiny cars and people. I wanted to be up in the clouds. I also wanted to get to the beach as fast as I possibly could. Unfortunately, I couldn't change my parents' minds, so we packed our bags in our cramped maroon minivan and were on our way.

I thought driving all the way from Wisconsin to South Carolina would be horrible and agonizingly boring. The thought of having nothing to do but look at passing cars and buildings the whole time wasn't a pleasing thought. At first, it was a tedious ride. As we made our way through the states, we passed the state line into Indiana. All around us was flat earth, just like the Savannah Plains. As we passed through Indiana, I couldn't bear any more of boring sights and my aching body. I thought every state would be like this, but to my surprise, I was wrong. I was very wrong.

Some of the sights we saw and the places we went were breathtakingly beautiful. As we drove through the Smoky Mountains, I looked to my right and saw what looked like white puffy pillows. I was up in the clouds. I was giddy like an angel dancing amongst the heavens. My mom opened the windows of our van for a brief moment and I smelled the crisp pungent scent of the pine trees.

We passed through major cities. Chicago, Indianapolis, Louisville, and finally, we made our way to South Carolina.

I could sense it: the hot yellow rays of the sun beating on my skin, the salty scent of the ocean leaking through the cracks of the windows, the swaying palm trees all around us… I was finally in paradise. I couldn't wait to throw my swimming suit on and rush to the beach…which is exactly what I did.

At this moment, I forgot about all about the chaotic life I left behind in Wisconsin and finally started to live a little. I wasn't myself, but that's a good thing.

As I finally sat there on the soothing soft sand, I wondered if it was an illusion. Is this an illusion? Am I actually here?

The waves crashed around me and the salty water gently rubbed against my skin. In that moment, I knew I wasn't dreaming. I was in paradise. I was at peace and that's all that mattered to me. It's not necessarily the place we're headed, but the adventures we have while getting there.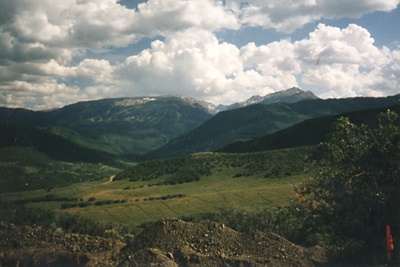 © Photo by Michael B., Denham Springs, LA