Where should I go?
April 16, 2012
I sat on the cold leather seat and thought. The sky was as dark as coal. It was filled with beautiful twinkling stars. It was one of those nights that my dad would give me a lecture on how I should admire the wonderful sight above me, but I would nod and only pay half attention. But tonight was different. I was so confused and didn't know what to do. My eyes began to tear and eventually I was hysterically crying. I felt like nobody could help me. I was alone.

I raised my hand up towards my face. I was going to wipe away my tears, but then I smelled the dried blood, covered in chalk. It was a smell I was used to. I wanted to make the right decision. I wanted it to be that even if I chose the wrong answer, everything would move on, but it wasn't.

We drove past the gymnastics gym; I took a good look at the sign. I knew this could be the very last time I see it. I had all of my things packed from my locker. Still, nobody knew I was thinking about leaving. Every time I thought about all my friends I began to cry knowing that could have been the last time I saw them.

I could tell my mom wanted to tell me what decision to make, but she didn't even know. I had to decide if I should switch gyms. It was either not get better and destroy any chance of doing college gymnastics, or get better at gymnastics but lose all of my friends.

I was trying to think hard. My mind was all jumbled. I didn't know what to do! The wrong decision could completely change my life! I have been at the same gym since I was two. I knew everyone there and everyone knew me! It was like my second home, and the people there were like my family. I didn't know who I would be without them?

As I drove I knew I had to make a decision. Some of my good friends have left the gym and they seem to be getting really good and are very happy. Finally I knew what I was going to do. I have to go to a new gym I convinced myself. It's what's better for me. I can't deprive myself of any chance in getting better at gymnastics. I've outgrown my gym. It was too small. They taught me everything they were going to teach me. I have to leave.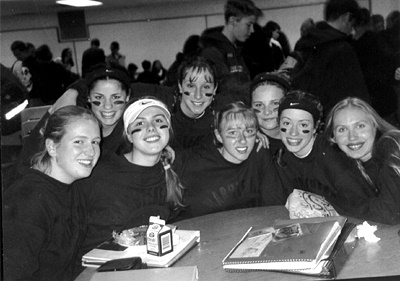 © Heather C., Marblehead, MA