When I Fell
January 10, 2011
Sometimes my thoughts scare me to the point of tears. A disease called logic claws its way through my brain, and I can't think straight. All of a sudden, I stand before an abyss of emptiness and I don't know what's in front of me. Frightening ideas intoxicate my brain, ideas like "what if no one's out there" or "what if death is really the end". There is only one place where these thoughts have no meaning a place where they can't hurt me.

I stood before a chalky bar, an easy assignment ahead of me. Giants were the only skill I had to perform, a skill that has a gymnast swing on the high bar in complete circles while their body remains straight, only holding on by their hands. It's something I do every day. I remember feeling pleased that my assignment was easy because there was a big meet the next day in Seattle. I have never been amazing at gymnastics; I have the skills, just never the scores. This year I am determined to make that different, "All I have to do is stay healthy" I kept saying to myself. I think I was still saying that when I launched my body towards the low bar to start my simple warm up.

I held myself in front support on the low bar prepared to do what came next. Slowly I climbed up, putting one foot on the bar and then the other. I sprung from my feet to my hands. My grips met the high wood rail and I began; my thoughts in sync with my actions.

"Kip." (Mount)

"Cast handstand, be tight, be tight."

"Push out towards the low bar, Tap, one giant, push, tap, two giants." Faster and faster I went all the while thinking, "Push, tap, push, tap." Finally I began to slow and ended in a perfect handstand. I began to tumble the other direction. This would normally be no big deal. I would simply let go and float to the soft mat below. But instead, in a moment of pure insanity, something inside of me told me to hang on. I latched on to the bar more tightly and spiraled into what I thought was certain death.

Adrenaline pumped to every limb in my body. The world came to an almost complete stop, and as my entire being became rigid my brain began working double time. I was able to think numerous thoughts at the same time. "Damn it" then "I'm going to break my neck" then images of me lying on the ground motionless. I felt my hands ripped from the bar and instantly I registered that my end could be moments away. What was I to do? "Tight saves your life" these simple words were my salvation. I forced every muscle in my body to be stiffer than they already were. I soared threw the air, I had one final thought that carried me "Dear god please help me". Then as if an answer to my prayer I became aware of the lower rail slamming into my thighs. Gracefully I twirled to the ground, where my feet touch the blue mat beneath.

I had no words. My mouth dangled open and my eyes were as wide as possible. All I could mange was, "That was so…" The onlookers had many word to fill the space, cool, scary interesting. But mostly I thought the only words appropriate were, "life altering".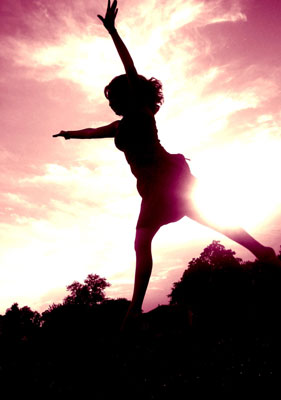 © Martha V., Morton Grove, IL