True Forever
October 25, 2010
If there lives such an animal created by the almighty God with so much power, grace, enthusiasm, personality, temper, force, positiveness, and drive then I'd call it the horse. As his hooves thunder across the soft soil, dirt flying, I feel it pound in my heart. Gazing into the eye of this mystical beast, I see so much passion and security. Striking me, is his willingness to do anything, like the hoof sending bolts of lightning forced to the earth. This feeling rumbles my soul, and lifts the burdens. Flowing beautifully, his mane and tail glide through the wind, tangle free, like the waves from the salted ocean. His coat shimmers like the scales of a fresh new rainbow trout splashing from the water. The muzzle of this monstrosity is breathing so deeply, so hard, and so stressed. Atop the face, his ears twitch and flutter daintily with every stride he takes. Glistening sweat, beads down the neck and nose, putting a layer of shine to make the coat even brighter. So bright against the sun, it reflects any glances and turns them away.



This is me. It's me who stares at the pure beauty of this thoroughbred horse. His coat is ebony, true, ebony in fact. I can sense the stories that lie deep within this racehorse. The tough times, the struggles to become the best. Falling, failing, to make it and to become that one with the blue ribbon and the gold. His ribs show through like mountains covered with ash. Ridges very deep, like a gash, but all around the stomach. Has this magnificent body been thrashed to hell? Starved and seen through his capabilities? No, he was pushed past his capabilities, in truth.
When there lay that time where you witness a horrific sight, see abuse or neglect in an animal, you know what you want. You want that feeling to go away, to be banished, and forever gone. Now being part of that scene in saving an animal so gorgeous as this, I can feel proud of how far the horse has come, and how far us as people have come. Come to save him through the depressing moments, and into a free life that he deserves. I feel so proud of him. Despite those though times, for him to seem as if they never occurred, and to shrug it off, to become better and come out stronger makes him a Saint. This horse has built himself up. Built up with courage, and trust. He can now trust people again, and seeing him be washed without throwing his head up, ridden without rearing, or something as simple as letting you lay down your hand on him with out a flinch lets you know you are as important as him.



I set my hand on him, so softly. His coat is silk, and feels so valuable. Straining my hand down his neck, I realize I'm stroking a champion. No matter if his winning is shown or not, a real person, someone who has that bond, that connection, yes, they can absolutely spot that courage. It's hope that strikes me. I see just how much this horse has. This hero to me and in the eyes of a horse lover comes the sense to save him. That is exactly why he stays here. Alongside us, fighting with us, not against. Making sure he won't track back to the way he's lived before. Not with all this.



Been through too much to travel back to those times. That time where being cooped in a stall for a year, seems to have gotten the best of him, maybe just for a second. But then the feeling wears off, because this horse realizes something. What he realizes is that he is indeed stronger, and above all that. Just won't take it anymore. Not even for one second.



This horse has been my hero, and will always stand forever in my soul. Fighting with us. When there is a decision made, I believe it shall be the right one, not forced, and not held upon him like dark, thunderous clouds. When that choice is made, it will be him that decides if that track is his life. But what can I say to make sure it's him and no one else?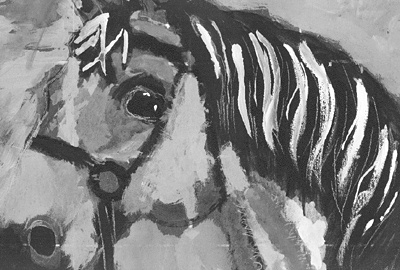 © Jeanette C., Morristown, TN