Bidding Farewell to Prince Charming
September 6, 2010
A time comes in a girl's life when she realizes that Prince Charming is just a beautiful fairy tale. It's not that she hasn't met some amazing guys, it's just that she knows that the Perfect Man, the way she imagines him can't possibly exist.
I've never met guys galloping on a white horse, in their full glory, ready to free their damsels in distress.
Recently, I thought I had met my Prince Charming. He was perfect in every way imaginable. He never forgot important things like my birthday, or our anniversary. He always let me pick the movie. He was up for anything I wanted. He gave me lovely things. I thought that this must be my Prince Charming.
Funnily enough, I didn't love him. By the end of our relationship, I nearly despiced him. I, myself, have often asked myself how? How could I hate a guy who was willing to give me the world on a golden platter? Who worshipped the ground I walked on?
Then I realized that he just had no character or opinion of his own. I managed to see that through his behaviour he really wasn't being himself. He was simply attempting to be someone he's not. He was attempting to be the guy from the Romantic comedies and failing miserably.
Because he was a lie.
And I hated him for it. I hated him for not having the courage to be himself.Perhaps that's mean and judgemental but I knew at that moment that anyone can tell when someone's pretending, and it is a sick, disgusting sight, like distorting your body in sick, unnatural ways. Only you do it with your character.
But back to Prince Charming. He doesn't exist. I recently read an article that advised women thus: Pick 3 qualities in a guy that you can't compromise on. Only 3. These are what make your Prince Charming perfect. Not sure if that's the way to go, but hey it is worth a shot, no?
No one is perfect. Everyone has some faults. It is what makes people interesting and different. Looking for someone who's absolutely perfect can be unrealistic. If you meet someone like that, careful: they're usually too good to be true. Just look at Hilary Duff in Beauty and The Briefcase and that guy she dated.He seemed perfect, until she found out he was only lying to her so he can get her to like him.
All I'm saying is, be realistic and be glad if you can tell that the guy you're dating is actually himself and he's not attempting to be someone he's not. Because it is an ugly sight.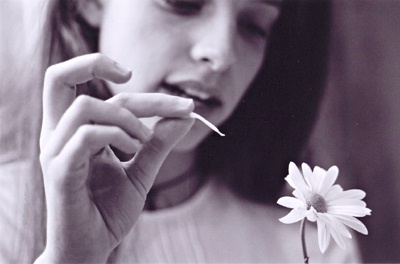 © Emily B., Houston, TX