Scattered Thoughts
May 29, 2010
I recite the story over and over. My life. I talk into the mirror. "A cross line of right and wrong. If you had the opportunity to choose between happiness or depression, which would you go with? A serious matter that controls the fate of six different people. How do you know what is right or wrong? What might be wrong for me could be right for you how do you make such a decision?" I stare into the mirror, await a response. Nothing. Impossible.

I lay here with my head pressed to my desk. Music plays in the background of my thoughts. I ponder what may be ahead in my future. I wonder what will become of me.

The clock says 9:46 PM but to me, it's really the time I walk away. My mind is stuck between reality and a dream. My head is here, cheek to desk, though I'm somewhere else completely. I ask my self, what could be worse?

I breathe in a lovely scent of the ocean. I hear waves crashing around me. My toes slightly dipping in the edge of the water. My fingers run through the sand while my arms embrace the warmth of the sun. I can taste salt rising from the water up into the air running past me. Where am I?

Leaving behind the island, I'm stranded alone in the woods. Miles and miles of trees and natural debris. The sound of the wind swishes around me. The breeze rattles the leaves. I feel a cold sensation across my neck. Paranoia seeps deep into my skin. An unsettling urge to run pulses through my nerves. I pass trees, rocks, hills; leave behind the feeling that is slowly catching up. I slip, fall, crash to the ground. I let my body collapse and rest my head in the dirt. Panting from the sprint that got me further towards no where. I quietly say to myself, I give up. No one can hear me. Complete silence, aside from the echoes of bird calls. Turning over in the dirt, I rise to my feet. I stand tall awaiting my next fall.

I feel drool slipping down my chin. The desk is wet. And now I know I sleep with my mouth open. Gross. I feel disgusted. I hear her voice now in my head… "You're a slob! I hate picking up your shit."

I seem to be caught up between what is reality and what is a dream. I wish what was real was just a nightmare and my dreams were reality. But even my dreams can't chase away the pain. I can't escape it. I'm not allowed sweet dreams.

The desk is now a mess. It's one in the morning and I better be off to bed before I am stuck awake. I tell myself to rest in peace. In the lightest whisper, "I wonder if when we die, if you really do rest in peace…" The emptiness in this room is caving in around me. As I roll down my blankets and crawl into bed, I close my eyes and let rest take me away.

Strawberry Fields Forever is ringing loud around me. I'm in a bed of grass with flowers here and there. A little girl runs by and I follow her. When she comes to a stop I ask her, "Where are you going?" No response, she sees right past me. The grassy field appears to go on forever. The green goes on and on. I wonder how I got here.

Losing focus from one dream drifting on to another. Five years into the future, I see her with a cigarette pressed between her lips. Her hair is thinner than I remember. She looks sad, cold and bitter. My heart breaks at the sight. If this is what fate has in store for me, I rather not live another day. I reach my hand out and place it upon hers. I tell her, "I love you." She isn't listening. She never does. Never has. I feel a stream of warmth cascade down my face. I sit on the corner of the sectional. "It didn't have to be this way." Silence. So I go on. "I didn't mean for this to happen. But after Dad left…" I pause and let out a deep sigh. "We all fell apart. He left us. Kyle moved out. And then I just couldn't take it anymore." I then realize I am talking to air.

Suddenly awake thinking about Eileen. She needs to quit smoking; she knows it will kill her. I picture her now. In the living room sprawled out on the couch. Yukon at her feet and Louis in the windowsill. A move plays on the TV, one she's seen a thousand times before. An ashtray sits on the coffee table filled to the rim with butts' smoken down to the filter. Another one lit in her hand resting between her pointer and middle finger. Her other hand is a nesting place for the cell phone she cannot afford. It's against her ear. "How could she mom?" A deep inhale, another drag. I know she's talking to Nana. "I do everything I can for that f***ing kid! It is never enough!" I nearly choke on guilt. I suppose it is all my fault.

The loneliness creeps in the dark. I miss her. I miss home. Though, this is home. My new home. Where the future awaits me.

Questioning right or wrong, happiness, depression, angst, fear. It stalks me. Excuse me while I sharpen my pencil… now that's better.

Nearly seventeen, less than a month away. I've been forced to decide what to do with my life. I ask myself everyday, how have I been so lucky to end up here with them as parent?

I frantically pace the small area of my room, talking to myself. "Where do I go? Fate rests in the palm of my pale, clammy hand. I hold the future. I hold the past, even though I should let go. Why have I been left to make such a decision? This is not fucking fair." Breathing starts to become faster. Now hyperventilating.

"Wake the hell up. It's time for school. You're going to be late. Another tardy, damn it kid! You're gonna E out if your not already failing. Too bad you wont get anywhere in life. Why are you even here? I think it's time to give up. You aren't fooling anyone." Hatred and anger fills me.

I go to the doctors and lay across the leather blue couch. Await my diagnosis.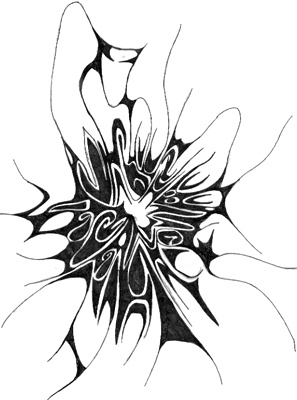 © Ansley F., Tifton, GA