Change
April 21, 2010
How come things never go the way you plan for them too? Why do relationships that were suppose to last forever fall apart? Why do friendships that you never plan on forming take place in your life? Why do you act different the older you get? Why can't things just stay the way we want them to forever? All this is running through my mind as I talk on the phone. I never planned on changing; I never planned on hurting or neglecting anyone, especially my family. We both grew apart. Last summer, even though we've only known each other about two years it felt like our whole lifetime.

I am a particularly quiet person. I don't really speak up much or tell people what I really think of them. I mostly keep to myself depending on who I'm around. My cousin on the other hand, she's different from me. Total opposite actually. If she doesn't like you she'll let you know, she thinks you don't look pretty or have a horrible taste in fashion: she will let you know. We ended up becoming real close. We spent basically everyday of the summer together. From movies at 1 a.m. to having pool parties together we were inseparable. You couldn't mention one without mentioning the other. Then we took a turn for the worst. Something we had never planned on happening. We grew apart. Our lives took different courses, we drew closer to different friends, and we stopped calling and texting. Things weren't the same anymore and we knew it, we could feel the tension but we never dared to address it. I guess it was something we just thought would blow over, something that would fade into the background. But this, this was something that we could no longer ignore. Especially when everyone else sees it and points it out. Usually when your parents ask "what happened with you and so and so" your usual response as a teen is "idk" when in reality you know exactly why. Cause, she stole my boyfriend, she betrayed me, she lied to me etc. This time, when our parents asked "what happened between you and your girl?" and we say "idk" it's actually because we don't know. We don't know where things went wrong. We don't know when we could have tried to save it. If things would have been said earlier, if we would have taking actions maybe a little sooner than later, then maybe we wouldn't be at this point in time. The reality is that we are. We're at this point in life and we have no clue as to how we ended up here. We kind of pin pointed it to a time frame, where signs should have gone off saying "DO SOMETHING STUPID!" But we ignored them, didn't think twice about it until know.

Last summer. A summer that changed us for the better and set us up for the worst. To understand how we got to last summer, we have to get to the months before that. When I was taken out of public school (story for another time so don't ask) and put in home school. Let me just say right off the bat that I absolutely hate home school. I can't stand it. It is the worst thing that could have happened to me. (Yes mom and dad I know it's my fault but just let me have my time to be sad). Anyway, last year I got taken out of public school and put in home school. I felt as though I didn't really have someone to talk to or trust. I didn't have someone to confide in or talk to about anything considering the fact they were all in school. So rah was like my new best friend. We told each other everything it's like we were sisters or twins as she called us. That summer I went on the bethel trip with my cousins Ari and Bri. First few days of the trip were funny and cool. Then we started talking to John and Donald and Asante. I never knew they went to Rah's hall considering the 500000 times I had been there. I didn't know or talk to anybody until that summer. The summer my 'popularity' grew which forced a wedge between me and Rah. After the bethel trip I knew more people at her hall then I did before. I never realized how many people or teens went there until I started talking to the people there. This was most likely the first sign that things between us were going down hill. The more I went to their hall (almost every Tuesday and Sunday during the summer) the more well known I became. The closer I became to people I barely knew existed.
Shelley. Tarryn. My girls! I love them to death. I became real close to the two of them in the past few months. The closer we became the more I brushed rah off like having plans with Shelley every weekend. Texting Tarryn every second of the day. I didn't know how it was making her feel. I never knew rah felt like I didn't have time for her anymore. It was just the fact that each time she asked I had already made arrangements to get with them. Plus, to me it felt like rah was always busy anyway. She was always with her sisters Shelley (different Shelley) and Tiera. So I felt like she would rather be with them so she had them and I had Shelley and Tarryn.
When people ask you why aren't you and so and so cool anymore what are you suppose to say? When they asked why I wasn't cool wit Rah anymore I said idk because that was the honest truth. We both agreed on the fact that something was definitely wrong when people can see that we aren't even cool anymore. There was something between us that prevented us from being as close as we were before. We did everything together. Now I go to the movies with Tarryn and Shelley and she goes to the movies with Tiera and Shelley. We're sixteen now and we can't avoid it forever.
That's what we're sitting her discussing on the phone. Why, when and how did we let it get to where it is. I can tell that we were both a little emotional. We were once connected at the hip and now we just say "hi" when we see each other like we're enemies. I feel as if she is somewhat isolated these days. When I ask what's wrong she doesn't want to talk about it. Normally she'd spill everything, stuff I didn't ask to be told. But now, it's just the simple "nothing". There are lots of "nothings". There's the sarcastic nothing, the "I'm going to say nothing so you'll leave me alone" nothing, the "it's more then nothing it's everything I need you" nothing. That's what her "nothing" meant. It meant its more then I can bare to say right now but I'm dying to tell you. But because of the way she is I figured it was actually nothing. It was something I felt she could handle because: she's rah, she doesn't need help, and she can handle herself. Maybe I should have tried harder and maybe she should have tried to talk to me. I don't know how you feel if you don't say anything to me.
I guess to sum it all up we both changed. I never knew I was hurting her like I did and she never knew she hurt me like she did. We both should have said something earlier. We definitely need better communication. The main question that still stands is: how do we get back to how we were?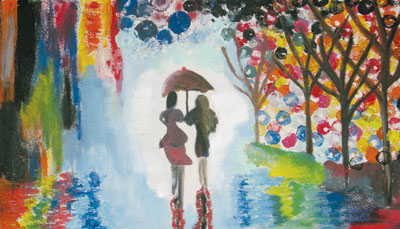 © Uzair M., Faisalabad, Pakistan