horseback riding
September 16, 2009
Have you ever been bucked off a horse? On July 25th, 2009, I went to J-Six ranch. I went there for my horseback-riding lesson with my coach, her name is Colleen. She has won 3rd place in Olympics for horseback riding events, I am not sure where and what year she has won the bronze medal. My horse's name is Bud, he is a Quarter horse, he is a very beautiful horse, he has four perfect even white stockings, and a perfect sized blaze on his head. His skin is light brown mixed with some reddish in it, and he also has a very thick black mane and tail. He is six years old. M grandma was they're watching me getting my lesson; my grandma pays for the lessons, clothes and event fees. My grandma supports me a lot because she cannot ride in English shows because she feels like she is the only elderly person in the group. We made up a contract; she says if I keep up with my riding lessons and events, she would get me an iPod touch. I am very excited for it! The owner of the ranch was there also, she says she loves to watch me ride, she said to me, "you are a perfect match for Bud, and he looks beautiful with you on him."

On that day, my grandma and I made a mistake. She and I brought my horse Bud and his mom Sandi. They both are very close together. When I was receiving my lesson, my grandma took Sandi away for her trail riding with her elderly friends. My horse Bud started to behave badly, he wouldn't listen to my orders. I knew something was wrong before I got on Bud, but I had to be brave and trust Bud. I had to keep him under control, but he was being really stubborn and a jerk. He is a young horse learning how to stay in control and listening its orders, my grandma and I are teaching him that it is okay that he can go to different places without his mom, Sandi.

In the middle of my lesson, Bud started bucking me off, luckily I stayed on, but oh boy! I was terrified; I thought I was going to get hurt. My coach told me to stay on and be brave; I did what was told. Then five minutes later my coach told me to get off, I asked her why. She said that my lip was cut open. I could taste the iron flavor in my mouth. So I got off, she told me that I needed to go to the hospital. So I ran with the owner of the ranch to her house to clean my face and wash my hands. I put a wet rag on my lip and applied pressure on the cut. I waited one hour for my grandma to come back from her trail riding with her elderly friends.

My grandma came back with a big black bruise on her arm, and she told me that Sandi was being bad too. I told my grandma what happened to my lip, she said she would not bring them both together to a different place besides their home and separate them. So, we had to load both of the horses and took them back home and unload them and took care of them. Then my grandma took me to the hospital, they said that I did not need stitches, so they put human glue on it and closed it with tape. I was relieved; I hate stitches so bad!

After all of the incidents, t has drawn Bud and me closer, which makes me happier, now I know what to do with Bud and Sandi. It has drawn us closer by us knowing each other more, I know better not to take him and his mom together to a different place ad then separate them. Separating both of them in a different location has made them both uncomfortable and very upset, because they are very close together. Both of them were rescued by my grandma, they both were abused by a previous owner. My grandma knows too. She refuses to bring them both together to a different place then separate them, which is the lesson that I learned.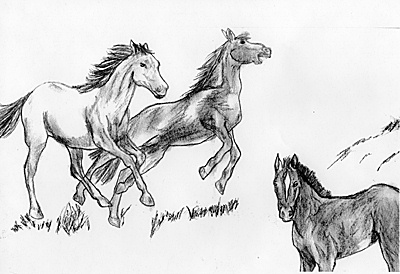 © Ali A., Eau Claire, WI