Author Joanna Campbell Slan
August 16, 2012
Joanna Campbell Slan, author of the Kiki Lowenstein series and many non-fiction/inspirational books, has recently released the first installment of her new series, the Jane Eyre Chronicles: Death of a Schoolgirl. The book series is based on the literary heroin, Jane Eyre. To help spread the word about her latest endeavor, I interviewed Ms. Slan for Teen Ink.

Rachel - Tell us about your new book, "Death of a Schoolgirl."

Joanna Campbell Slan - Death of a Schoolgirl begins where the Charlotte Brontë classic Jane Eyre left off: The year is 1820, and Jane is happily married to her beloved Edward Rochester. Their domestic bliss is shattered when a cryptic letter from Adéle Varens, his ward and her former student, arrives. The girl's life has been threatened. Because Edward's injuries from the fire that consumed his home preclude him from traveling, Jane decides to go by herself to London and visit the girls' school where Adéle is enrolled. There Jane stumbles onto a mystery that has already claimed the life of one schoolgirl. To solve the crime, the courageous former governess hides her sleuthing beneath a false identity—but will it protect her long enough for Jane to uncover a killer?

RH - Why did you decide to use a literary figure as your main character?

JCS - While preparing for a panel at a conference, I was asked, "What is your favorite mystery?" And the answer was Jane Eyre. That got me thinking. If I loved Jane, as so many people did, why hadn't anyone revisited the novel with an eye toward using her as a sleuth? She's everything a good amateur sleuth must be: curious, brave, intelligent, observant, and able to blend in. For a long time, I had thought it would be fun to write something very, very different from my first protagonist Kiki Lowenstein. Lately I've been writing short stories for Kindle featuring Kiki, but I wanted a longer, more "meaty" project. One that would challenge me as an author. More and more, I kept returning to the idea of Jane Eyre as a character in an ongoing series.

RH - How did the story of Jane Eyre affect you as a child?

JCS - I grew up in a chaotic household. My father and mother were both alcoholics, and they fought a lot. So reading became my primary means of escape. As I read Jane Eyre, I realized that Jane's education was the key to her escaping her own bad environment. The book gave me both hope and a game plan.

RH - How do you hope your books will help your readers with struggles in their own lives?

JCS - Dear Reader, when you are young, you have very little control over your environment. If your parents are messed up, what can you do? Running away is a non-starter. It's too dangerous. But if you can somehow believe in a better future—even though it seems very, very far away—you will have the power to change your life. Trust me. My life is NOTHING like what I grew up in. I know how it feels to wonder if you'll ever escape. I am proof that you can escape, but it's not easy. Of course, living in a tough environment isn't easy either. So choose the path that is tough but leads you to what you want. Don't let them convince you it'll never get better. That's the baloney they tell themselves so they can believe it's okay that they gave up. Just know that you aren't alone. There are other people like you who've been through this, and they have survived and gone on to be a success.

RH - This is the first book in a series you will be writing; what can readers expect in upcoming stories?

JCS - I've already turned in DEATH OF A DOWAGER. As the books progress, Jane and Edward will be involved in all sorts of crimes. At the heart of this series will always be Jane's passion to help those who cannot help themselves. That's what drives her as a character.

RH - What other projects are you currently working on?

JCS - I'll go back to writing Kiki Lowenstein short stories. I also have a few other books that I will edit and get ready for publication on Kindle. This will be the first time I'm not under contract in many years, and I'm sort of looking forward to it because it's a chance to work on new ideas!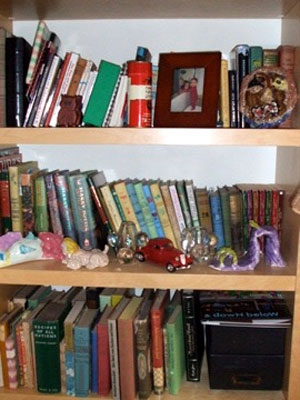 © Nina M., San Francisco, CA