The Story I Never Knew Would Happen
March 2, 2013
The Story I Never Knew Would Happen

Excitement is exactly what I felt on the first day of my seventh grade year. It was going to be my first day at a private Catholic school, which I chose to attend due to the high challenging classes and expectations. I just dreamed those achievements like Rapunzel's dreams. And most of all I was excited to meet the students, whom I thought would be like angels. For once in my life, I believed I would be around people who didn't judge the way you are.

I suddenly felt the nervousness of a kindergartener on their first day of school. Blood ran through my veins and my heart pounded hard on my way to school with my uniform. Once, I arrived, I was welcomed my teachers and the students that had been there since pre-school. They were kind, but I noticed they had defined cliques, even in a twenty student class; and I felt a vibe through the eyes of some of my classmates. I simply ignored it; it was my first day. But it was the religion lectures which made me grow and mature, I felt at peace.
However, there was someone I noticed: a short, petite girl trying to find her place, she was new, as well. Her dark, black, curly hair covered her half-closed eyes. Her mouth never pursued to turn into a smile, but most important were her hands with black, artistic styled writing and drawings which were covered with her jacket, so as not to get caught. She was quiet and I never knew what she felt; I simply thought she was anti-social or an introvert like me, but I never knew what it was until I went through it myself. The boys in my class would tell her she was Chinese and laugh while she would try to defend herself with pain in her eyes, and then just laugh it off. She always walked by herself during our breaks, but I never knew why.
Slowly, I began to gain my reputation as a good student throughout the school. By election time, I became the eighth grade and school president. My mind was full of ideas to help others and raise money; I thought I could make the world a better place. Unfortunately, I never thought that I could start by helping those in need in my own class. As I commenced my eighth grade year, I put my plans into action. My best friends were always having ideas to create parties, dances, and fun. They always said, "They are the memories that count." Now I know that they never knew what memories are truly made of. It was a month into my eighth grade year when I noticed a change: council meetings were loud, so I took action to stop the rudeness. With the help and cooperation of a few members, meetings grew quiet except for the joking hyenas in the front of the room. Just because they were my best friends didn't mean they received special privileges, so I spoke up for the respect of others. I always tried my best to show equality to each member as a group. As I should have expected it, I began to receive ignored questions, the rolling eyes, and the rude comments.
One day as we were hanging out, they both started gossiping about the girls in my class; I was not okay with that. There was so much confidence in my voice when I disagreed with them and told them to stop, but they just laughed as I walked away. Soon enough that's what our conversations almost always were: gossip, make fun of other people, be sarcastic, and laugh. I would always tell them to stop until a day when I grew to be completely annoyed by their crude sarcasm against the other girls in my class. I had had enough; I burst with rage and told them they didn't know anyone's story and with the spoiled life they had, they would never know or feel that way. At that moment, I became the target. The two of them began to ditch me, laugh at me, ignore me, use sarcasm against me, and worst of all backstab me. They would laugh about my hobbies, personality and tastes. I was being attacked from every angle. Even the boys in my class stayed away from me, because my "best friends" would pull them away when I talked to them in my class and they would start rumors about me.
At one moment, I thought I was sticking up for something that was right, at another, I wasn't so sure. There were times when I felt defending other people were wrong, but I knew I had to remain strong. My only friends now were my teachers and my family. I would go home and cry myself to sleep and wake up with a wet pillow and puffy eyes. The realization came to me: I was depressed and alone, even though the school saw me as the school president. My mother was always there for me trying to cheer me up with brownies and tea.
Following all this agony came a morning where the pain lingering beside me was broken. As the bell rang I cried full of sorrow, embarrassment ran through me, but I couldn't take it any longer. I just sat sobbing while my teacher comforting me thinking how I could be so weak or how could my "best friends" make me feel so horrible about myself. With the help of my trusted teachers, I realized I needed to stay strong, even when I stood up for others: it was like a bullying test in which I must never give up, ignore, or forget.
Now as I look behind me, I cringe in sorrow, thinking that I could have done something stupid if someone wasn't there to help me. My teachers and family helped me remain confident and I learned not to judge others so quickly because, "You never know their story." We all live in the same little town, even the mom looks at me with disgust, like mother like daughter, but I forgive her, maybe she was bullied at an early stage of her life as well.
Those painful times are over and I see that girl now with the same dark, black, curly hair. She sings every day with a pleasant smile every day, spreading the joy and love she has to offer to forget about her past: she lives in the present and dreams of her future. She experienced being bullied too. I won't stop fighting for the cause of bullying; I will defend any and every person in pain or being bullied, because every person deserves a wonderful life happiness, love, and great confidence. Every child is special and should be loved in every way.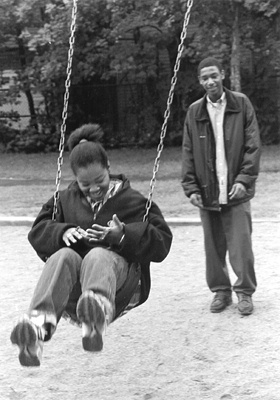 © Yaniris M., Boston, MA