The Secret
February 2, 2013
When I was younger, in fourth and fifth grade, I had to keep a little secret. I didn't like this secret, I hated it really. I didn't know what to do with it. I just wanted to tell someone, someone that could've helped. But I never did. Because I promised. And when you make a promise, you keep it.
It all started when I came home after school one day. I thought there was nobody at home and walked into the kitchen. There I found my sister, she is a year younger than me. That was odd. My teacher was sick, so I got to go home early, but why was she here? I sat down beside her at the kitchen table. Then I finally noticed she was crying.
I asked her what was going on, but she wouldn't tell me. I asked her again, and squeezed her hand, but she still wouldn't tell me. It wasn't until I had been sitting there with her for an hour, but then she finally gave in and told me everything. About how some girls in her class made fun of how she talked.
The thing was, my sister lisped; she couldn't pronounce the 'R' sound right. I myself had actually never noticed that, she had talked like this all my life so I never heard it. But she was trying hard to say it right, went to a speech therapist and was making a lot of progress.
I asked if I should talk to the other girls. She said this wasn't a big deal and I should just forget it. They would probably forget it too the next day.
But the girls in her class didn't. She was an easy target and they weren't going quit so soon. So they made fun of her. Every day for two years. They laughed at everything she said, even though she wasn't saying it wrong. They made other kids laugh at her too. It was their fault she stopped making progress with her speech therapist. She stopped practicing, she just gave up. It got so bad at some point she just stopped talking. Which was so unlike her - she used to talk so much, the real problem was to shut her up!
My sister made me promise not to tell our parents or older brother. She tried to act normal around them, but they still noticed there was something off. They just didn't figure out what.
I found my sister crying so many times these two years. I hated how helpless she felt. I wanted to do something, but I didn't want to betray her. I talked to her, and tried to teach her to stand up for herself. But that's a lot easier said than done, especially when you feel like you're up against the whole class. I tried to make her start practicing with her speech therapist again, but she just didn't see the point. And I even tried to talk to those girls, when things got really bad! But they started pointing fingers at each other and not one admitted. They all promised to be nice to her though, but of course they weren't.

Eventually though, people stopped laughing at their jokes about my sister. They stopped encouraging them. And then finally, the bullying stopped.
But I've never felt as terrible as I felt those two years. I've never felt as helpless. Angry. Even guilty for not telling anyone. Couple of weeks after the girls stopped, my sister told mom and dad. They were heartbroken. And a little disappointed, why hadn't I said anything to them? They made her see the speech therapist again, and she started making progress again. She started talking more, and practicing her 'R' sound.
But still. It's been 5 years, and she isn't the same. This changed her. She's more closed, more afraid and cold toward the people she doesn't know well. She trusts few and hates to speak in front of people.

I know these girls were young, probably didn't really know what they were doing and maybe even feel bad about this today. But they never said they were sorry, they never explained their coldhearted behavior and never earned their forgiveness. They left her with scars, when they didn't even get a scratch.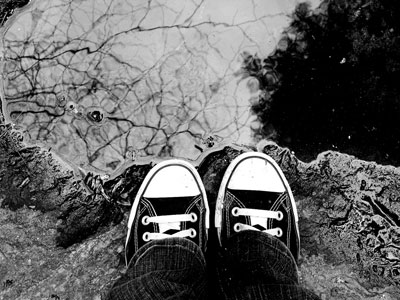 © Michelle B., Blairsville, GA