Bullying Shouldn't Be a Problem, But It Is
May 24, 2012
Bullying is an ongoing national issue that needs to addressed quickly and effectively. As a high school student, I see it every day, even in the little things others do. I have been both a victim and a witness of bullying. I know and feel what those who are bullied go through and it is a terrifying experience. Hopefully one day people will understand the injustice of bullying.

In fourth grade, as a new student in a new school, I tried to be everyone's friend. Because I tried to be friends with everyone, it was very upsetting when someone didn't necessarily like me. One girl in particular didn't make me feel welcome, so I tried without falter. Eventually, she invited me to a party and ignored me the whole time and talked about me the whole time. I cried and cried because I don't like rejection. I just wanted to be friends with everyone. Fortunately, I found a great group of friends with whom am I still to this day; however, the bullying continued until, finally, I told the girl to leave me alone. I haven't been bullied since. Bullies will stop once they are told.

As a witness, I have seen many situations. More personally, I have seen my three little sisters bullied. As the oldest sister, it broke my heart to see the emotional pain they would go through. My sister Gabby was bullied the most. She would cry because she didn't want to go to school and face the bullies. The biggest problem was that the teachers would do absolutely nothing about it! They knew very well that she was being bullied, and they never even tried to put a stop to it. Because of this behavior of the teachers, my sisters are now homeschooled. They did not home school to hide from the bullies. It is never a good thing to hide from one's fears. They are homeschooled because my mother wants to teach them the values she wants them to uphold, and she wants to be a part of their education. Teachers must take a stance against bullying in schools.

Bullying is an issue that greatly angers me because it has affected me personally. People need to understand that bullying is the cause of many teen-suicides, depression, and other mental issues. America needs to come back to its senses and take down these bullies who are menacing society! Kids need to learn how to stand up for themselves, and teachers need to step in and stop the bullies.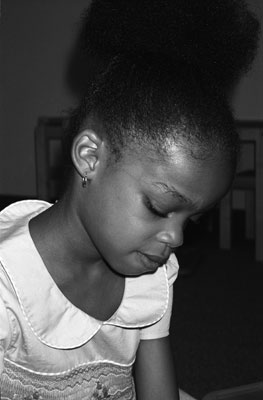 © Megan W., Ocala, FL