Runaways
January 24, 2011
     Sienna knew she couldn't stop for long.  Her breath came in little short breaths as she rested, hidden in the shadows.  Her fire-red hair was stuck to her face with sweat, and her clothes were torn and tattered.
     Suddenly, she heard the sound of heavy  footsteps of the three grown men chasing her.  She wished she could just lay down and sleep, but she knew she had to move. Carefully, she stuck her head around the corner to make sure she was alone. Seeing that the coast was clear, she took a sharp left and sprinted off into the darkness of the damp alley.
    With each footstep, she splashed dirty water up her already filthy legs.  "She's here somewhere!" the scratchy voice of an exhausted man yelled.
     Another man shouted, calmer than the other, "How can you see anything?" followed by a loud crash which Sienna could only assume was the sound of the man tripping.
     Sienna let herself release a small giggle.  She was pleased with herself or losing one if her pursuers. Seeing a ladder up ahead she veered left and took hold of one of the old rusty rungs. She scurried frantically up the slippery ladder. "Aarrrgggg" Sienna screeched as a rung snapped under her weight.
     Her scream was just loud enough for the two remaining men to hear her and come running. She looked down just in time to see a rather scrawny man, obviously exhausted, shout, "There she is!  Up the ladder!"
     "It's not strong enough to hold me," groaned the bulkier man in reply as he broke two rungs, "Gabe, you go up there!  You're lighter!"
     By the time the two figured it out, Sienna was sprinting across the rooftops of the moldy apartments in what used to be beautiful New York City.  But now, in 2951, only about half of the buildings had inhabitants.  Most of the windows were boarded up an the paint was peeling off the side of the buildings.  If anyone was to see her, she would look like a tall black shadow leaping through the night like a panther out to hunt. 
     Out of nowhere, Sienna saw the head of a man rising from what must be a ladder.  Stunned, she took her eyes off the ground to look at the man.  Within seconds, Sienna felt her self falling down between the buildings.  "I hope this is better than getting caught," she thought to herself.  
     Then, there was nothing.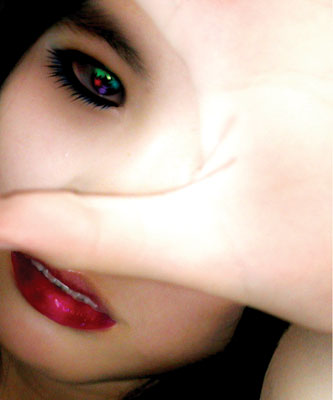 © Victoria W., Arcadia, CA