Chapped Lips & Stained Satin
May 11, 2017
"Do you want to hurt me?" I asked.
"No."
"You're lying."
I could see it in her eyes, the overfill of sanity. Too much. Far too much.
"How do you know?" Her head tilted. Thus when I let out a slight chuckle, louder than intended.
   "You're sane." I respond. Ages of silence commenced, before she uttered a pleading "How do you know?" once again.
I let my head fall to my right side, ignoring her pitiful beg. "Your voice was possessive" I started. Her eyes shot from her stained satin dress to my chap lips. "It was the epitome of love. Hearing your voice whisper your love to me was pure satisfaction. I fell in love with every inch of you again and again each day." Her hazel eyes glistened in the reflection of the dim chandelier. A poorly hidden smile grew onto her face.
  "Until I didn't."
      Her small, clenched hands released of all tension. Her dress fell back into place, with wrinkles showing where her hands grasped. She c***ed her head down, and released a single tear drop. After a few seconds of dreadful silence, she collapsed onto her knees, her arms tense, and her head still low. She weeped, as I observe the veins in my left hand, distracting myself from her. Every heavy, crying breath she releases pulls me closer to retracting. Every clear, memory stained tear brings me closer to forgiveness.
     Her cream white dress formed a circle around her bent legs. I breathe quickly and stammer "No need for sorrow." As I stand up from the velvet red chair. As she looks up to me with pitiful eyes, I walk to the fireplace and gently take her over coat off of the hook. It's warmth from being so close to the fire makes me grasp it tighter. The smell of her soft perfume makes me hold it longer. I stand behind her and place the jacket on her shoulders. She remains on her knees, sunken in her sorrow. I readjust the coat on her shoulders and quietly clear my throat, hoping she'd stay just a little longer.  She shows no reaction to this, so I stand in front of her and offer her my hand. Moments of silence commence. I avoid eye contact to keep from crumbling. I try to keep my eyes off of her as a whole, for she is so full of astonishing parts.
    Her cold hands send shivers down my spine. Her polished and chipped nails bring me back to nights I can barely remember. Involuntarily, the memories take control. I lightly tug at it to lift her off of the floor. She stands, wipes her face, and pats her dress. She does not make eye contact with me. I lead her to the door, and silently open it. She steps out into the almost freezing winter midnight. She takes two steps from the front door, and takes one more sorrowful look at me. I wonder how her eyes manage to glimmer in pure darkness. She looks away, hesitates, and disappears into the dark field of everything that used to be.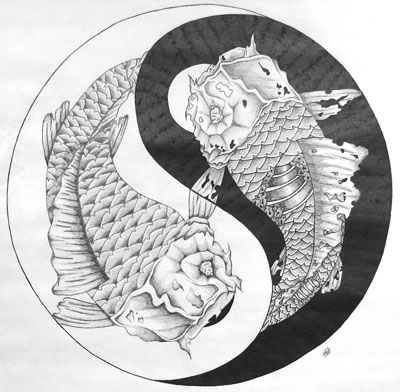 © Matt F., Pierz, MN