Dance With Me
October 7, 2012
Death and I are old friends. Almost lovers even. We flirt, smiling coyly as we gaze into each others' eyes.
He'll make an advance. I'll blush. Encouraged, he'll move closer- only to be put off by a wink as I slide breathlessly away. He comes closer every time.
It's practically a ritual now, this game of tag, this waltz with Death. He's quite a good dancer. Very light on his feet. Sometimes I'll grin foolishly, thinking about it afterwards. Yes. Not bad as suitors go.
Besides, I like the attention, the feeling of being chased. It's quite invigorating. To think he spends his time on me is enough to make my stomach flutter. But I don't ever let him know. Oh no, I will ignore him when he gets too pesky, for days even! Then he becomes quite contrite and tries to make it up to me, tempting me with all sorts of glittering fancies until even I have to forgive him. But sometimes I make him sweat, otherwise it would be no fun at all.
It's hard to say no to a suitor like that. I'm often wanting to give in to his endearments. His eyebrows are so cute. Isn't that funny? To be attracted by his eyebrows of all things.
I suppose I'll give in eventually. I know I will. Any girl would. But for now, I'm just enjoying his company. I've known his presence for so long, it would be lonely if he left me for good.
Ah, here he comes. Right on time. I feel a rush of excitement while my stomach tingles in anticipation. He smiles and holds out his hand. It hovers hesitantly, hopefully. I smile and shake my head. Not yet. He sighs knowingly, slightly exasperated but good-humoredly nonetheless. I smile wider. He knows me too well.
We don't dance yet. For now, we are content in each others' presence while the shadows slide by and time washes over us, oblivious to our bubble of peace.
He glances at me, his lashes full and dark and his eyebrows drawn up in a questioning way. Oh those eyebrows. I make my decision. How could I say no? I've waited long enough.
Suddenly shy, I slowly raise my hand. It falters, then steadies. He stands very, very still, as I reach out to curl my palm in his own. His smile becomes wider than I've ever seen as he clasps his hand gently over mine. Unexpectedly, I catch his excitement and I grin madly back. He sweeps me around in our most whirling dance yet. Laughter bubbles up from my throat, my hair escapes and flies around my head in a stormy halo, and all the while we're dancing like madmen in a glorious romp.
Both of us are pink and breathless from exertion when we finally stop, too dizzy to take one step more. Smiling, he raises my hand to his lips. I smile happily back.
Then, still holding my hand, he leads me into the dark while I follow trustingly behind.



I hope he doesn't snore.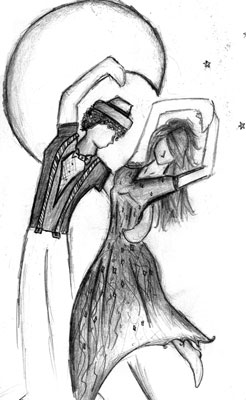 © Megan L., Everson, WA