My Protector
October 17, 2010
21-year-old Emily Narasaki and 25-year-old Will Harumi have had a passionate relationship for 18 months. Emily's parents didn't understand why she even wanted to hang around an alcoholic; he was drunk almost every night. Emily believed that he wanted to be a new person. She had the support of her best friend, Jake Garcia. But she didn't know that Jake had always been in love with her.

* * * * * * * * * * * * * * * * * * * * * * * * * * * * * * * * * * * * * * * * * *

One night, Will went to Emily's house at 1 in the morning, making noises throughout the house.
"Will!" Emily whispered as she came down the stairs. "Why are you here? It's 1 in the morning!"
"SHUT UP!" Will shouted, walking drunkenly. "I CAN BE WHEREVER I WANT!!"
"Will, are...are you drunk?" Emily gasped.
Will shoved her to a wall, holding her by her throat with a gun pointed to her head.
"You'll shut up when I tell you to!" Will said.
"WHAT THE HELL ARE YOU DOING IN MY HOUSE?!?" Emily's father yelled as he came down the stairs. His wife was following behind cautiously.
Will, startled by his shout, turned around and fired. Emily's father collapsed down the stairs, dead. Emily ran to her father, leaving Will in a daze.
"Emily, I..." Will started to apologize.
"YOU MURDERER!!" Emily accused, crying over her father's corpse.
Will ran out the door, only to be trapped by two police officers. As soon as they eyed the body, Will was cuffed and jailed.

* * * * * * * * * * * * * * * * * * * * * * * * * * * * * * * * *

5 months passed, and Will was jailed for 2nd degree murder. Emily spent most of her time with Jake, mourning her father's death. Jake comforted her without complaint, and they became even closer.

* * * * * * * * * * * * * * * * * * * * * * * * * * * * * * * * *

"Emily, marry me."
Emily and Jake were having coffee at Central Park, and here he was: on one knee, holding a ring. Emily sat there, shocked.
"Jake...are....are you serious?" she stammered.
"Yes. I want to be able to call you mine," Jake said shyly.
"Just say yes. You know you love me as much as I love you."
Emily couldn't say anything; her grateful kiss said it all. As soon as he put the ring on her finger, a familiar scream rang through the park.
"EMILY! I KNOW YOU'RE HERE!!"
The two couldn't run fast enough.
"Emily, come on!"
"I'm running as fast as I can!"
Emily and Jake ran through the crowded New York City streets, weaving through the crowd hand in hand. Emily's ex-boyfriend was behind them, a loaded gun in hand.
"YOU CAN'T RUN, EMILY! I'LL FIND YOU!!!" Will yelled after them.
"Jake, this is crazy! We can't outrun him!" Emily pleaded.
"I love you too much to let you die." Jake panted.
"But why is he even here? He's supposed to be in jail for 6 years!"
"There's no way he got out for good behavior, that's for sure."
A gunshot was fired.
"EMILY!" Will shouted.
Jake and Emily ran 3 blocks before they finally lost Will. They went into a nearby deli to rest until they were sure that Will was gone.
"Jake, maybe I should go back," Emily whispered. "I don't want you to get hurt for what I did."
"But you did nothing!" Jake replied. "I'm not going to let you die for nothing. He doesn't care about your life. He's a CONVICT for crying out loud!"
"But that's not worth risking your life to save me!"
"Yes, it is! YOU'RE my life now."
Emily was astonished. Jake would actually risk getting killed to save her. And somehow, she got to keep him forever. They were meant to be together.
By nightfall, Jake and Emily were able to leave the state. They went to Conneticut and got married. Weeks later, they lived in Jake's house near Hartford.
One day, an impatient knock was heard throughout the house, followed by a shout.
"EMILY! EMILY, I KNOW YOU'RE IN THERE!!" Will threatened.
"How did he find me here?" Emily gasped. "Jake? JAKE!"
Emily turned to see Jake punching Will in the gut. He grabbed Emily and they raced out the back door.
"Jake, are you crazy?" Emily screamed. There was no reply, only a groan.
Emily, in her haste, had missed the gunshot, turned to see Jake on the ground, blood covering his shoulder.
"Emily, RUN!" Jake screamed.
Emily didn't know what to do. She couldn't scream as Will advanced near her, hands ready to choke her. Suddenly, she remembered the knife in her hand when Will first arrived. As Will was close enough to choke her, she thrust the knife forward. Will collapsed on the floor, dead.

* * * * * * * * * * * * * * * * * * * * * * * * * * * * * * * *

2 months later, Jake was still in the hospital. Emily stayed with him almost every day, all day.
"Jake," Emily started again. "Thank you so much."
"For what?" Jake asked.
"For saving my life. For risking your life to help me. For...for..." She started to sob.
Jake took Emily's hand. "No, thank you for giving me the best thing I could ever have."
"What's that?"
"You."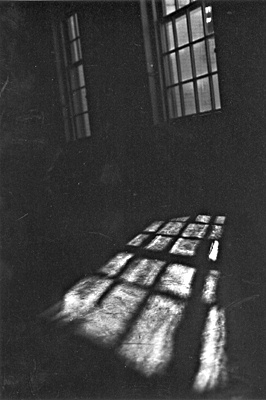 © Mary A., Fullerton, CA