The Love Gum
October 16, 2009
Now I'm not one to complain, but there are just some things in life you can't help but whine about. Like maybe your perfectly straightened hair kinks up during 1st period gym while you're running laps, or maybe your fat, bald history teacher assigns ten pages of homework dealing with the Roman Empire (which, by the way, you'll never need to know for everyday life), or maybe, just maybe, there's that one boy in your life you love to hate.

"Can I have one?"
"No."
"Why not?"
"Cause this is my last piece. Go away."
I watched him rip apart the Stride wrapper and throw it to the floor as he put the gum in his mouth.
"I hope you choke on it," I said as I rolled my eyes and turned to walk away.
"I hope you stop being so ugly!" I thought I heard him call.
"What was that?"
"I said you're pretty snugly," He said as he shrugged and laughed.
"Really, I'm not the one with the elf ears," I said facing him again.

It may be hard to believe, but our relationship wasn't always like this. There was a time in our lives when we were actually friends. And that time was when I was seven. When I still loved Barbies and he wasn't an obnoxious jerk. That all changed at age eight when he would rip off the Gucci jacket for my Barbie and obsess over her boobs. If there's anything I learned in this life it's that boys are perverts.

"And you don't deserve any gum; I deserve gum! I have probably given you a billion pieces before and you can't even give me one," I continued.
"You want the gum? Then come and get it," He said as he held out his arms and stuck out his tongue.
"Excuse me?"
"What are you so afraid of?" He said taking a step towards me.
"Your herpes invested mouth."
"No, that's not it. I bet you've just never even been kissed before," He said raising his eyebrow.
How'd he know.

"Wrong. I just don't want to kiss a jerk like you. For the record---."
I didn't get finish, though, cause it's kinda hard to talk when someone's lips press against your own.
Pull away pull away pull away.
But I didn't; instead I found myself wrapping my arms around his neck as we kept lip locking.
I didn't know what the hell I was doing. I just turned my head to the right when he turned his to the left. I didn't open my eyes, and I didn't let go of him.
One thing I knew for sure; it felt amazing.
The gum slipped into my mouth along with his tongue. We tongued wrestled for what seemed like only one second until he pulled away.

"There ya go, enjoy the gum," He said as he ran his fingers through his hair.
I inhaled and almost choked on the stupid piece.
"Yeah, well, this is good gum," I said chewing awkwardly.
I noticed him looking almost surprised as I did, maybe due to the fact that our kiss, at least to me, was incredible.

"I still hate you," I said as I looked into his gray eyes. But then I smiled, cause let's face it; I love him.
"Good, cause I still think you're---."
I inched closer to him, so close I almost went cross-eyed.
"Still think I'm what?"
"Pretty cute," He smiled.
And with that I just giggled, puckered up, leaned forward, and titled my head for what felt like that romantic kiss you only see in the movies.
The rest is history.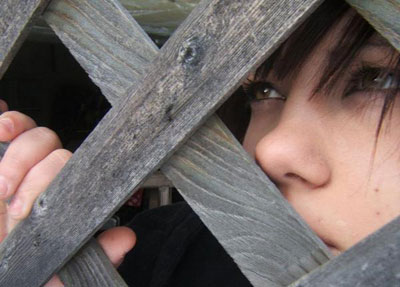 © Krystal B., Bloomingdale , IL