Teen Angst
June 10, 2009
But all of a sudden I couldn't think of anything but him. The way his tanned arms had held me at the Christmas dance and they looked just so perfect in retrospect, bulging with muscle up at the top and his forearm with its flaxen-coloured hairs. And the way his golden brown locks of hair were always hanging half over his deep green eyes which happened to be the exact same colour as the fir trees lining the brook down near the quarry. The way that when he swung his tennis racket his jaw tightened and looked so determined, but the way his strong, tight jaw relaxed into the most delicately handsome grin when he was happy.
And when he'd taken off his shirt at Saffy's pool party to reveal that perfectly toned six-pack and you could see the tiny scar running down his chest from a skiing accident. How his eyes were so strikingly sharp but when you looked up close you could see all the delicate, dark lashes lining them. The way he laughed at everything I said but looked so serious when he was unaware of people's glances towards him. I loved how he shied out of everyone's attention, but always seemed to get more for it. And the way he was so intuitive and knew what was wanted to be said in every situation, but had been in bottom set for every subject since he was in nursery and annoyingly classified as "dumb but hot".
And how whenever I went near him the hairs on my arm stood up and I felt like I was so happy and I felt such a rush of emotions, like electric but still so nervous I wanted to be sick yet I wanted to be near to him. Like I felt now, except that along with these feelings there was the fact that my heart was slowly drifting downwards and my lungs felt so heavy.
He looked so debonair now with the upper bit of his honey fringe sticking out above his forehead. The fact that he looked so vulnerable somehow in his white shirt when I knew his skin was just underneath, but so in control with his matt black jacket and hot with his sticky-out collar lining his beautiful gamboge neck was confusing me. My head was spinning with the weird flashing lights so everybody moved so jerkingly except Adam and Florence dancing so gracefully, and a guy standing nearby was looking really strangely at me. My head was hurting with the loud music pumping in my ears and I was faint with hunger but I just stood there and watched him so fervent with Florence's arms draped round his neck and his holding her lusciously silky hair and her practically bare back. And the fact that I wanted to reach out and hug him and tell him that I'd never liked Josh and I'd liked him all along, but I couldn't because he was dancing with Florence and he didn't, couldn't care anymore and he loved her and my heart was burning with hurt and regret.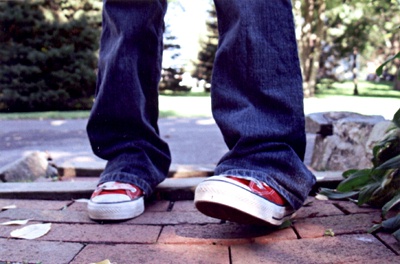 © Sara M., Milford, CT