Grey Ocean
April 4, 2018
"I can't see it!"
"There. Next to the strange rock."
Amy lifted her young and clean hand from her fresh-blue dress and pointed down to the shore-bank where the otter drifted along, as if to guide her sister's eyes, but she knew Jen would not look. She did not want to. This ocean that stretched around them was not the big magical blue that their father promised it would be: it was too grey for her--too grey
"It's not real! I don't want to play anymore! There isn't anything here! Nothing! Daddy was lying! I want to go home!" she wailed as she cradled her face in her hands
Amy found herself fighting to suppress her impatience with her sister. She predicted the move would do this to Jen. She sighed and looked at Jen in her pitiful state--head depressed between her shoulders and her long blonde hair raked over to cover her sad face--then back to the shores below, seeing the beautiful sea-creature of this new place scurry away under the free-moving ocean surface.
"Why don't you just go away!"
"I will," Amy said with a liberated sigh, finally resigning her sister to exist in her lone gloominess, keeping her eyes on where the otter once was, and under her breath she whispered into the dim, salty air, "come back. . ."
And with that, Amy nimbly scooted herself off of the rough volcanic rock that she sat upon, above the sand where the sadder of the two sat collapsed, and began to walk up the path towards their unfamiliar yet bright new home in the villa, watching the passionate light of the sunset dance between the long and pure blades of grass.
"It's not there. . .It's not there," Jen muttered to her colorless self, "Why did Daddy take us away? I was happy. . .He promised--"
Suddenly, a sound of splashing water penetrated the dark cage that was her stubborn, matted hair. Jen stopped crumpling her thin, fragile red dress between her fingers and slowly unfurled. She was still, listening for the sound to come to her again. For a moment, she lifted her head from her hands and looked through the thick strands of her hair, but then returned to her form of despair again: "It's not there. . .It's not there."
Another splash. Then another. And another.
Amy made it to the front gate established loosely into the golden ground of their new yard, watching her father fine-tuning the posture of their old home's front porch chairs on the sandy boards of the new porch.
"Did you find the otters?" her father called to his daughter, clearly fighting to uphold lightness in his voice while also suppressing his exhaustion.
"I did. But Jen wouldn't."
Amy's father stood up from his work, set his experienced hands on his hips and acquired the look of a father contemplating a solution.
With the released ease that fathers have when they finally arrive at wisdom, her father said, "You go to her. She needs you."
Amy turned and ran with purpose down the soft, free hills to where her sister was, passed the glimmering blades of grass, and onto the volcanic ridge. Excitedly wavering upon the rock, Jen pointed to the shore below her and shouted joyous cheers, and her hair blew free in the wind, and Amy smiled with serenity.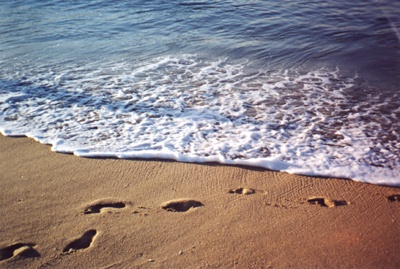 © Daniel M., Phoenix, AZ