The Christmas Miracle
December 18, 2017
One cold, frosty Saturda morning when a 7 year old name Timmy was going sliding with his dad. Now Timmy only got to see his dad two times a year because his parents were divorced so he treasured every day he got to spend with him. So Timmy was on the top of the mountain with his dad and his two older brothers.

Timmy was the youngest of three brothers, his brothers names were Travis and Troy III and his dads name was Troy II. So now it was time for them to actually do some sledding. Every year they did a raffle to see who would go first. Timmy got picked 2 years straight, and didn't want to get picked again so the night before he went into the jar and erased his name off of the raffle ticket and replaced it with Troy's name because Troy never gets picked. So Timmy handed the jar to his dad and his dad shuffled the names and grabbed one and announced," Timmy will be doing the first run down the sled." Timmy was very puzzled because he thought that he had erased his name, but then he saw his brothers off by the tree near the hill chuckling to themselves. Then Timmy realized something, that his brothers had went into the jar after he did and changed the raffle tickets. Timmy really couldn't do anything because if he said something then he had a chance to get in trouble. So he got on the sled and and grabbed the railings along the side of long 5 year old sled that was starting to rust. " 5, 4, 3, 2, 1, blast off." Said Timmy's dad and then Travis forcefully kicked Timmy down the hill. Little did Timmy know that his brothers had made a ramp, and not just a small ramp, a ramp that they had been working on since spring break of last year. So when Timmy realized that there was a ramp he tried to move out of the way, but he was too late. He went flying across the front of the lawn, then he fell off the sled. The sled landed forcefully on the ground but, Timmy flew a few extra feet and hit the tree. "Timmy are you ok" yelled the 5 foot 9, 16 year old Troy III. Timmy didn't answer for he was unconscious. "Are you ok" exclaimed the 5 foot 11, 17 year old Travis. Of course Timmy didn't answer for he was still unconscious laying near tree. The two brothers started running down the hill to see if he was alright, there light tan faces were full of fear from the thought of death. They reached Timmy at the bottom of the hill when they noticed that he was only unconscious. A nerve of relief went through their bodies as Timmy came back conscious. As Timmy awoke he mumbled a few words and then without hesitation he got up and started screaming at his two brothers. He was red hot from the fact that because of there stupid ramp he hit a tree and went unconscious.

Timmy's dad was confused that Timmy was screaming but soon realized why for when they first went down the hill he did not see the ramp but now that he did he completely understood. He walked over to the two older boys who were shocked and amused at the same time and he started yelling and then they walked home. When they got in the house all the boys were sent upstairs, Timmy was only up there because he had to change clothes but the other boys were grounded. As soon as Timmy got downstairs his dad checked for any symptoms of a concussion, his dad worked as a physician so he knew what to check for. He still took him to the emergency room and Timmy ended having a concussion, but it was minor. When they got back home Timmy went to his room so he could take a nap as the doctor had suggested. That's how the day before Christmas went for Timmy. The next morning at about 9:00 Troy II woke everyone up and they all went downstairs to eat before they open present. Timmy had forgave Travis and Troy after what had happened yesterday so they were now exchanging jokes and laughing together. After everyone had finished their food they went to open the presents, but there was a knock on the door. Timmy went and opened it and was shocked at who he saw. His mom was at the door holding a big box of rapped presents.

Timmy welcomed her inside and escorted her into the living room were everyone else was. They also were surprised to see her. She went and gave them hugs and put the presents under the tree. Timmy's mom was all of 5 foot 7 inches she was 43 years old and she lived in Los Angeles, California. Timmy and his brothers mainly lived with her except when they saw their father during some of the holidays.
"Tasha, what are you doing here? I thought you were at a banking conference in Miami." said Troy II. "Well the conference ended last night and I booked a flight here instead to California cause I needed to ask you something that has been on my mind." Said Tasha. "Well what is I?t." Said Troy II. "Look I confess we have had a few fights that led to our divorce. I'm not going to lie I still want to be with you." When Tasha said that all the boys look at each other with a sense of joy because they have been wanting them to get back together ever since their divorce. "Well I have a confession too. I was devastated after the divorce that's why I never started dating because my heart longed for you." Said Timmy's dad. In Timmy's mind he was thinking that they were going to get married again which he had prayed would happen and finally after two years it might finally be happening. "So does this mean what I think it means." Said Timmy's dad. "Well if your thinking about us getting back together then your thinking right." Said Tasha.

Right when the boys heard that they jumped off of the couch and they began to dance around in excitement. Troy II and Tasha hugged and they exclaimed together in perfect harmony, "What a Christmas miracle." So, now the boys started to open presents, which there were a multitude of them. Just like most things they did they picked who would get to open presents first but, something different happened Timmy got picked and they older boys were shocked.

Timmy jumped up and did a backflip in excitement. The first thing that Timmy opens is a huge model lightsaber that he had asked for of course. The next few gifts he got were expensive and things he had not asked for. The first of them were Yeezy 350 V2s. They were all black with red stitching, he took them and put them on right away. That gift was from his mom. The next gift was a Rolex with a black face and diamonds on the face. The last of those gifts were loads of clothing from Supreme, A Bathing Ape, Louis Vuitton, Adidas, and Gucci. He went upstairs to put it up and of course he had to showcase at least one the outfits to his family which consisted of an A Bathing Ape shirt, Adidas joggers, and a Supreme hoodie. He stayed in those clothes because he said that they were comfortable and he needed that to keep him warm. So his next gifts were pretty casual like he got a Xbox One X and he got Madden 18, NBA 2K 18, and FIFA 18. So, now it would be Travis' turn to open presents because the rule was if youngest gets picked then it goes in order as follows. Travis opened his presents and they consisted of a bunch of shoes. He got Adidas Nmds, Ultra Boost, Pure Boost, and Yeezys. Now it was Troy III turn to open the last of the presents. He got a few pairs of hoodies, shoes, and joggers. Well now that everyone had finished opening their presents Tasha pulled out three rectangular boxes. She handed them to each boy then told them, "Ok now you can open it." They ripped the rapping paper of and they were each holding their own brand new iPhone X. Now they were really going bananas because this one an upgrade from there iPhone 7s. They all ran over and hugged there mom, each brother squeezing the life out of her. Now that was how Timmy's Christmas had gone, which of course was a lot different that he had thought. The rest of the story goes like this Tasha and Troy get back together and he moves to California with the rest of the family. A year later they get remarried and move into a mansion in Los Angeles, California. Life went back to normal for Timmy but know his broken family was reunited and he loved it.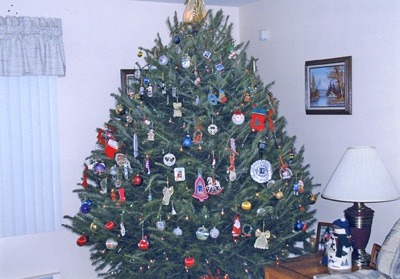 © Brian N., Mildford, CT