The Darkest Wars
December 14, 2017
In Africa there was war, many wars, and many died. Soon cities went poor and food was scarce, but people still had greed for the regions of Africa. Civil war broke out in the west, and the C.P.A and N.D.F attacked each other having wars trying to take over. The N.D.F wanted to keep the dictatorship in West Africa. Finally, the C.P.A rose and stood up for the people. The C.P.A were the group trying to fight the dictatorship that was ran by Jafari Foluke. As the terrible man he was, he never concerned the people.

I was 12 when I lived in peace without war around me. I had friends and family. In my family, I had two younger sisters and an older brother. My father was gone most of the time trying to get and grow food and make a couple of trades. Mother stayed at home most of the time, helping with our goats and the garden. Occasionally, she would get water instead of me having to go. I would have to watch my little sisters while she was away getting water. My brother was big and strong. He was always worried about how he smelled and how he looked. He'd always tell me it was for the women in the village, to make himself more appealing. He took showers twice a day and worked on his muscles to look good for the girls. He didn't know what to say most of the time and made things awkward between them.

We lived in a rusted metal shack with dusty dirt floors but had small barns and coops for chickens and fence for animals throughout our village. We had cots in our rooms laying on the dirt floors. My family had no furniture but a couch and a couple of lamps. We ate on a blanket with our hands. I shared my bedroom with my brother; his name was Sadiki which means loyal, and my two younger sisters names were Safiya the youngest and Aisha the smallest of all even though she was born before Safiya. My name is Amadi, which means destined to die at birth, but I did not die. My mother said it was the gods that helped me escape the palms of death. I would always ask her how the gods bless us. She would say how we're alive and how we will live long. Most people live long in this village. After she'd finish I'd go fishing in the stream.

I woke to the smell of eggs and baked bread. I rose from my cot rubbing my eyes. Slowly I made my way and heard my name being called. "Amadi, Amadi, get up and go help your brother get water from the stream,'' my mother spoke to me. Soon I would see her no longer.

I went out to help my brother, skipping breakfast, running, so he wouldn't get mad at me for being late. I started to get a little cramp. I saw a C.P.A officer on lunch break, he was at the road with his gun in his lap, wearing green dusty attire. Sitting at the bench beside the building that let the cars in and out. He had a banana and a sandwich. I went up to him and asked him for a piece of the banana. But when I came closer, I could see that he had a dirty, round red scar on his cheek. He gave me a piece of the banana, and I still wanted to ask him about his scar. I thought it would be rude, but I decided to ask anyway. He looked at me with fierce eyes. Eyes that have seen many things. He told me, "War is not determined by who is right, only who is left." I was puzzled, but I still carried on with my half of the banana, telling him thank you for the piece of banana.

I finally met my brother at the stream. He was talking to a girl that seemed uninterested in him. The stream was as light as caramel and flowed like milk. People purified their water with fire and equipment. There were only few machines in this region of Africa. I smiled at him and asked him about the girls. He, as usual, told me that it's not my business. I laughed and poured some water on him from the stream. He looked at me and grinned. He got his vase and poured it on me. We got to thinking pour it on some other people. He told me that we shouldn't, that it was getting afternoon and that we should head back. We headed back onto the road, and big trucks full of men and children came. We moved out of the road as this was hard since we carried water, but I hurried hoping not to get ran over. I don't think they would have stopped even if I didn't move. I looked closer at the children. They carried guns, and I was jealous because my father had a one and only let me see it once. He told me that he didn't like guns and they were only used for killing. Some killing was good, but that was only to feed our people. The bad killing was of each other, mainly including the party you disapprove of.
Suddenly, we heard the crackle of gunshots and explosions. We ran as and dropped our vases to help with our speed. Soon, we reached the village. I saw smoke and dead women, children, and men everywhere. I yelled for my mother, sisters, and father. After I started to yell, I got shot at and a man came from cover. It was the man that was at the car stop. The one that gave me some of his banana. My brother yelled to get down, and he ran for me, he tackled me behind a cement four foot wall. I felt a pain in my right leg. I looked and I panicked. Blood was oozing out and covering my leg. The crimson red trickled and dripped down my leg while my brother looked over the cover of a cement wall. I started to feel cold and I could no longer feel my leg. I looked around and saw boys being taken and thrown in the back of their trucks and the women being raped and brutalized, the men were tortured with dogs and most kills instantly with a bullet.bullets whistling past the cement. The man ran up and looked over the cement and pointed his gun at my brother. He froze and I saw my brother shot with a bullet, in the chest going through his stained t-shirt and out of his back hitting the dirt behind him. His blood splattered on my foot. I looked up at the man and saw the red round, dirty bullet hole in his face. The barrel raised to my head and I looked away and around it felt like time just slowed down. I saw my sister's dead body behind an old car, ragged mongrels tearing at her, ripping her skin from her bones. People are being forced to kneel down and shot in front of their families. A tear runs down my face. I think, why. I said it out loud and turned back to look at my brother, then I felt the quick pain in my head. Instantly, I saw black. I didn't know why they did it, maybe greed, maybe for their beliefs. All I know that these wars are the darkest wars.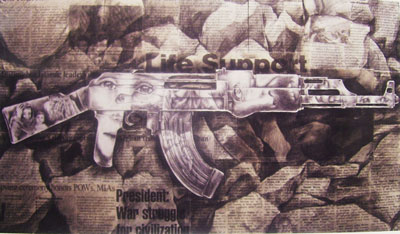 © Claire V., Lubbock, TX