The Fair !
October 10, 2017
My story is going to be about my cousins and I walking to an dinwiddie game. On this
walk weird things starts to happen while we're walking.But before friday even came I asked my grandma could she take me, my cousins, my brother to the fair I told her she didn't have to stay with us, all she had to do was drop us off.She told me yeah so the next day came and I got out of school and was gone. I asked my grandpa where she was & he said the hospital I asked him why he didn't give me an answer. I told him why I was looking for hrt and I asked him could he take us & he told me no because he had to go to back to the hospital with her.
I told my cousin we didn't have a ride the were teed so
we all just made up a plan & we meet up and starting walking to dinwiddie.All of a sudden Shanti brother popped out of nowhere and scares everyone but not my brother because my brother knew he was coming and didn't tell us.Then Tyanna & Shiya loses their phones.
Then Zaria mother pulls up and gives her money but didn't give us a ride,and she even asked two times.So we kept walking and I stepped in mud & broke my sandal now I'm walking with no shoes.
It's dark and when it's dark the bats come out so about,
15 bats came down flying and attacking us when we finally get them away Shanti haves no pants ,and Zaria has no shirt.
So when we finally get there it's almost midnight and
the fair doesn't close till 2a.m, We get their Zaria has no shirt Tyshanti has no pants, I have no shoes & Shiya & Tyanna don't have no phones. We just look a hot mess. Then it's 20 dollars to get in the fair and we have to pay 10 dollars each to get parking but we don't have an car so we didn't have to pay.
Then people were looking at us like we was stupid so
then I was just ready to go.So I called Shanti papa to come and get us and he's taking everybody home, but on the way when he's taking us home the tire goes flat so then I have to find another ride home for all of us but we can't all fit so my papa haves to get all the way home and get the van so all of us can fit.
Everybody went home and after that my papa said
he's not doing anything else like that for me again.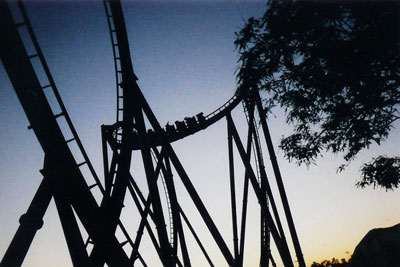 © Aaron S., Shelby, NC