Where Do You Think the Stray Cats Come From?
August 10, 2017
On a sweltering day at the end of August, I was feeling rather blue, so I decided to take the – from Brookline down to Braintree. Why Braintree, I didn't know—I just wanted to feel in control.
I planned to only go down for lunch and come right back home—no distractions. Brookline. Braintree. Brookline.

Stepping off the air conditioned train car and onto the gray, bland, hot platform of the terminal, I noticed a complete lack of humanity in the town center. Nobody seemed to be milling about as they usually do during the high summer—this was Vacationland, after all, and people did have places to be.

Main Street boasted few restaurants, and as I made my way down the road, it turned into Selina Street, and suddenly I noticed a row of them—most, however, had signs displayed on the front windows.

It seemed that the only restaurant open at 12:00 on a Sunday in this transient town was a small burrito joint by the name of Seymour's. I, famished and fatigued, decided that I would get my lunch there.

Bells attached to the door sounded as I opened it, revealing a single tiny room with a kitchen and cash register in the back, along with two long mahogany tables to each side. The room also contained two sets of counters and chairs at the two windows at the front. A television hung suspended from the ceiling in front of the cash register, facing the tables. The walls were littered with various photographs and certificates, but I didn't have enough time to look, as a rather elderly man standing behind the cash register waved to me and caught my eye and attention with an earnest, heartwarming smile.

"How are you doing today, pretty lady?" he asked genially. I blushed.

"I'm doing fantastic, thanks," I lied, returning the kindness. "How are you?"

He didn't reply, as he was busy making faces and ogling at the toddler sitting with its parents at the head of one of the mahogany tables. I stood patiently waiting. The television to my right was playing an episode of Sesame Street.

Suddenly his face turned serious.

"Sorry about that. That kid over there's just so cute. Have you seen him?"

I glanced backwards briefly, then turned back to the man and smiled.

"Yeah. Very cute."

He opened the cash register and started absentmindedly fumbling with the cash in the drawer.

"Don't you miss it?" He jerked his head in the direction of the toddler.

"Yeah."
He paused what he was doing and took one more longing look at the toddler. Then he fixed his gaze on me.

"It's a wonderful day today. What can I get you?"
I studied the menu.

"Can you give me a minute? I haven't had enough time to decide."

"Sure," he replied, closing the register and walking over to the family with the toddler.

I tried to study the menu some more, but I was having trouble focusing. Instead, I looked over at the certificates and newspaper articles stapled to the wall next to the cash register.
Seymour's 25th Anniversary
Braintree Resident Lucius Milford Celebrates 50th Anniversary of Seymour's Opening
Lucius shuffled back to his original spot behind the register and resumed playing with the cash.

"If only I could go back sixty-something years," he told me wistfully.

I laughed and agreed.

"No, you…" he began to tell me, finger outstretched and his face wide with a grin. "You're too young to be nostalgic. How old are you?"

"Seventeen."

"Where do you go to school?"

"Brookline High."

He slapped the base of his palm against his forehead.

"You're in high school! You've got your whole life ahead of you. These are the best times of your life," he added, smiling, looking down at the cash. "And you've come all the way down here."

I forced a smile and watched him finish organizing the money and then close the register.

"So, what can I get you?"

"I'll have whatever you think is best."

He chuckled and glanced backwards towards the menu.

"Gosh, I really have no idea."

"And how long have you worked here?" I jokingly asked.

His face turned cold.

"Get the Al Pastor."

He spread out the tinfoil on the counter and placed a cold, uncooked tortilla into some sort of hot press.

"Did you grow up in Brookline?" he asked me suddenly.

"Nope. I was born in northern New Jersey and grew up in Chicago."

"So you're a stranger."

"Where are you from?"

He looked at the toddler again and then back to the food.

"Everything on it?"

I was confused by his train of thought.

"Oh, yes."

"You're here to watch the show, aren't you?"

It took me a few moments to understand what he was talking about. I laughed.

"Yeah. You got me."

Lucius turned around and released the tortilla from the press. It didn't look cooked at all, but I didn't feel like giving him a hard time about it.

"Everything on it?"

"Yeah," I replied.

"You ever been to Rome?"

"No."

"Nor have I. Hear there's lots of stray cats there."

"Oh, really?"

"Yeah. You ever wonder where they come from? There's apparently tons of cats wandering around the Vatican. How could they let so many animals just wander there? Loiter there?"

He cut himself off and that seemed to be the end of that.

Lucius proceeded in silence, sloppily yet carefully scooping the various ingredients into the yet-to-be-made burrito, every few moments glancing over at the toddler. I wondered if either of them had even said anything to each other yet, or if Lucius just kept looking at him when he walked over there.

As Lucius scooped, a loud, rhythmic bang, of increasing volume, began to emanate from the counter where he was standing. Kicking. I began to worry when I noticed him beginning to grimace with each kick.

"Sir," I told him. He glanced at me, smiled shyly, and continued to prepare the meal in silence.

After a few more minutes, he broke the silence.

"For here or to go?"

"For here."

He smiled and placed the wrapped burrito in a bland, gray plastic dish. I waited for him to tell me the price.

"How much?"

"Gratis," he told me without a smile.

"You can't be serious," I told him, reaching for my wallet.

He smiled weakly.

"Gratis. Latin—learned that here at Thayer." He sighed and glanced over at the toddler again.

I shook my head and took the burrito, grabbing a glass of water from off the counter. Lucius looked back at me without a smile.

"You here for the show?" he asked again.

"Yes, sir."

"Why?"

I was, honestly, caught off guard by this one.

"I'm sorry?"

"Why would you come just for the show? Aren't you in high school?"

"No, sir, I was only joking. I'm just here to eat lunch and then go."

He looked at me and seemed even angrier and more disapproving than before. I walked to the front of the restaurant and took a seat at the window, facing away from Lucius, the toddler, the family, and the television. Out the window I could see an empty, picturesque cathedral. I wondered if anybody had written anything about that cathedral.

The burrito tasted terrible, and I had no feelings about it one way or the other. I heard some mumbling from the group but the noise from the television seemed to overpower all else in the room. Lucius laughed a lot. The only thing I could hear was the toddler at one point calling him "laughing man."

I heard the family say their goodbyes as I was about to finish my burrito. As I took the last bite, the bells on the door rung again. I glanced over at Lucius and got up to throw away the remains of my meal.

"Now I won't be able to watch my favorite show, dammit," he exclaimed from his stool next to the table where the family had been sitting. He looked glumly at the television and switched the channel to the local news—significantly quieter than Sesame Street.

I dumped the remnants of his burrito in the trash can next to him.

"You mind if I just sit here for a few minutes?" I asked him politely.

He waved his hand dismissively. I took that as a yes.

I returned to my seat and took out my notebook. I absently scribbled down a few thoughts as I looked out the window, admiring the rows of light blue carbon copy air conditioned homes, with no diseases or sicknesses inside, devoid of unhappiness and rife with camaraderie and neighborly benevolence. They could probably see more glass on the facade from out there than we could in the restaurant.

When I was finished, I got out of my seat and turned around, looking for the man so I could thank him and leave. But he was nowhere to be found, and the room smelled of gas.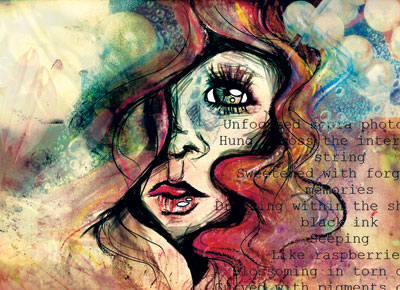 © Victor K., Las Vegas, NV