Repetitive Motion
August 3, 2017
Having to do the same repetitive motion over and over again for long periods of time often gets boring and soon tiring. The second is what I was feeling. Tired and in excruciating pain from this long inclined hike. The repetitive motion that I was doing was placing one foot in front of the other over and over again.

The backpack that I was carrying started to feel a lot heavier, my breathing started to become more ragged. I finally stopped and took a long drink of water from my bottle. I felt refreshed as the cold liquid flowed down my thirst and acquiesced my sensation of thirst. Hiking was a lot more tiring than I remembered it to be.
Just follow the trail and you will finally be able to relax the voice inside my head told me. Hiking was a favorite pastime of mine. This although is one of the longest trails that I have been on in a long time. Being in my late forties and not hiking on a daily basis, I underestimated my strength and stamina to get through this trail which led up the mountain. The view, on the other hand, was breathtaking, a nice overlook of the small town which grew up in and beyond to the horizon.

The nature around me always had the power to amaze me. The small chirps of the birds and the small noises that the bugs made. Every single animal had a routine from the moment of sun break to sunset. The circle of life is carried on without any technological help which I think is the best gift that evolution has given us.
The soft wind that swayed the trees and provided me with a refreshing coolness that surrounded my sweaty body. I finally remembered why I had loved hiking so much and why I decided to get back to it. I grabbed an energy bar from my backpack and slowly munched on it as I went back to my repetitive motion of putting one foot in front of the other hoping to get to the view that I have seen many times, but the view that I also cannot live without.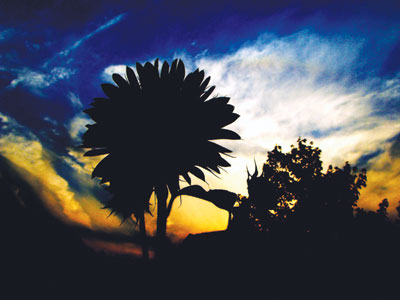 © Brian M., Fishers, IN