Drops of Rain
March 6, 2017
It had been a long time as he listened to the rain. Notes of a soft slow song floated to the top of his coffee. Silver raindrops fell under streetlights like bright shooting stars racing under the deep blue sky. Some part of him was lost in that rain. He always knew.

His crooked reflection lingered under a mild breeze. Muddy footprints marked his arrival in clear puddles. Blurry figures under umbrellas dipped into silence with lowered heads and wet clothes. The city was whelmed in drizzle, turning its back to him. Traffic lights of red and green bounced in the air, cheering for cars going under them like the little kids who he and she once were.

Old buildings dressed in worn colors stood on each side. The moon rested on the peak of a Gothic church, singing a lullaby people had long forgotten. So many nights had passed; the moon was there again, imagining old children would come back and play on the empty streets.

He stood alone in the middle of the path. Though light shone when raindrops kissed his extended shadow, it could not illuminate his old darkness. He himself alone sank into the bottomless sea. Airless, breathless, and helpless. Scattered bubbles ascended to heaven from his struggling nostrils, abandoning his naked soul. How much he longed for a descending hand, gripping his own firmly and never letting him go. How much he longed for a warm hug, telling him he had never been alone. Yet, there were none. After all, he was just an average Joe, a nameless character that no one would ever remember. He had seen beauty others had never seen; he had dreamed of paradise no one else had ever envisioned. Yet, he had no one to talk to, no one to lean close to and shares this cold weather.

The sound of a clock striking pulled him back to the rainy night. He had subconsciously moved his feet when he was lost in his mood, dragging himself to a spot under the street light. Glowing heat from the yellow light above had warmed his body a bit. He noticed that his hood was off his head, allowing rain to fall on his face. He tasted it; it was slightly salty. He swallowed it with eyes closed and opened his mouth for more rainwater. A small stream dripped down from his forehead. The more it came, the saltier his mouth became.

Did he cry? He did not know. He kept his hands from reaching his face and let the stream flow down his cheeks, washing away his everything, though he had owned nothing from the beginning.

Rain was the only company he had then. It bounced on leaves and cobblestones, echoing in his empty world. He started to feel tired, receiving more weight on his head. He paced imperfectly and lie under a maple tree, throwing his body against moss and ripped bark. Twined branches above created a perfect shelter for him. He breathed in the damp odor of the maple tree with greed, looking at the sky with half-opened eyes. It smelled like fish, like the one she once made for him. The moon sprayed her wispy dust, and smoothly shone upon his wrinkled face. Once again, she sang her lullaby people had long forgotten, only for him. But in that moment, he could hear it clearly. If he ever got to know how to write, he would definitely write down all the lyrics and sing them in front of everybody. Wind softly blew the branches, adding a layer of falling leaves for him as quilt. He did not know what would happen in the next morning. After all, he was just a tiny piece of the puzzle that made up the whole world. No one would ever notice him. His breath started to slow down from a single melody into broken notes.

The world sank back into silence as it once was.

The next morning, people would find him lying under the tree. And their lives would go on; time would move on; the moon would rise again every night and rain would still fall from the sky, saying farewell to those lost and lonely souls before the sun rise.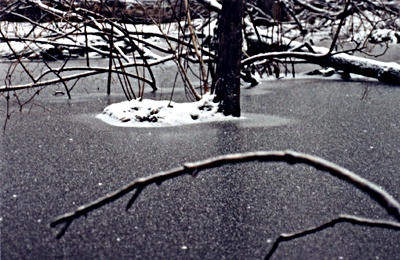 © Anton J., Philadelphia, PA