Bored
June 12, 2016
If you go and look in the dictionary, and look at the word apathy, you'll find exactly how I feel right now about pretty much everything. I really don't care. At all. You can badger me to do something all you want, but I won't move a muscle except for my tongue so I can stick it out at you. I'm just bored and that's fine by me. I don't feel compelled to do anything and even if I were, there's a 70% chance I still wouldn't. I just feel lazy today. You're obviously deluded if you think I'm even going to move from my bed. I'm tired, bored, and do not care. Any sort of doing anything is just deplorable. Except, of course, reading. Reading is the only exception. My mind isn't so derelict that I haven't the sense to read. Oh, and drawing. It won't be detrimental to my health to draw. No, of course not. And obviously, card and board games mustn't be forgotten. There is such a great diversity of them.
Writing as well. Yes, writing, too, is a fun activity. What a way to emit my feelings. Exercising, as well, would do a person no harm. Also, decorating rocks to be your little inanimate friends is quite fun as well. I do not lack the incentive to hang out with my friends, either. If they answer the phone to talk, it is usually a good omen. Inventing a mythical species fosters the imagination. They can have nimble flippers or toxic stingers, as long as you invented them.
Wow. I guess I'm not actually that bored. I just did, like, eight things after saying I wouldn't do anything. Huh.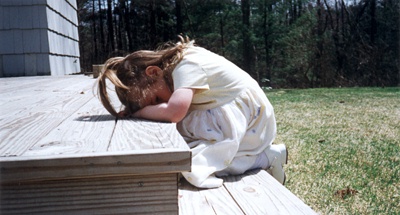 © Katherine B., Hingham, MA