Insecure.
June 18, 2013
She was insecure. She hated the way she looked. She turned to food for pleasure. She ate and ate until she felt better.

She saw ugliness when she looked in the mirror. She thought she wasn't good enough. She thought she was unworthy. She felt useless.

She had a constant battle in her mind. "Do I look good? I never look good. I'm so fat. I'm so ugly. Why would anyone like me? I'm useless. I'm not good enough."

She was paranoid. She thought everyone was against her. In her eyes, everyone who looked at her thought she was ugly and fat.

What she didn't know was that there was a guy out there, whom she knew, that loved her. Loved every part of her. Her flaws, everything. He thought she was beautiful.

Every time he looked at her, she would take his breath away. She was stunning in his eyes. He only saw her. She was the only one in his world.

He hated the way she felt. She wasn't fat. She wasn't ugly. She deserves to be in this world, just like everyone else. She was loved by everyone, because of her intelligence and generous nature.

It doesn't matter what's on the outside. It's what's inside that counts. Good looks aren't getting you far in life. Intelligence and generosity is.

If only she could realize that.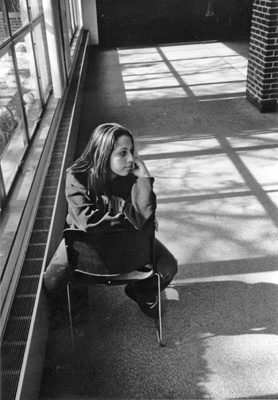 © Leighann E., Westport, MA