Running for the Train
March 14, 2013
You are running for the train, and you are late.

The money for your ticket – $1.25 – is growing sweaty and crumpled in your hand. The train has already lurched to a stop. You see the doors slide open, and the people, in a mass of odious, damp humanity, crush in. You're among them; but you can't enter. Pushing against the crowd to the ticket machine, backpack nearly rolling off your shoulders, you shove your money into the slot. Rejected. You shove it in again. It's processed … and then you're brought to the screen from which you can select your ticket type. You hit the button for "Eligible Discount," and then "Student," and then –

"Caution; the doors are about to close."

The cold, insensitivity of the recorded voice has never been so condescending. With a sickening metal lurch, the doors slide shut again, just as your ticket drops into the tray.


This time, you know you can't make it. You run anyway.

You don't bother taking your money out of your pocket. The ticket machine jeers at you. Now you're standing with the crush of people – and they are moving into the train – and you cannot go with them. Because you do not have a ticket. You stand there, a smile that feels like a whine plastered onto your face, feeling the quizzical glances of the passengers hit and bounce off of you like wet sponges. You cannot try to buy a ticket, because you know you won't have it in time. You know it; they know it; and yet they still stare. The $1.25 sits, heavy and important, in your pocket. You don't want to lose it this time. You know you will. If you try to get a ticket, you'll waste your money: these words bounce back and forth between your ears. Echoing, resonating, each time in a lower register. So you just stand helplessly and watch as the people get on the train, and the doors close, and the train crawls nauseatingly away. The pasty-looking faces of the passengers avoid your eyes from behind the windows.


You know you can't. But you'll try, this time.

Perhaps if you put the quarter in first. It takes a second or so for the machine to accept the dollar, but you've smoothed out the corners ahead of time, so it feeds in smoothly after a moment. "Eligible Discount." Your back is turned to the people, all the faces, as they board the train. "Student." Your heart is thudding heavily in your throat. It's impractical. You're wasting your money, and you know it. But it feels safer. "Zone 2." Less disturbing than all those waxy faces almost-staring at you as you stand alone, train pulling away without you.

"Caution; the doors are about to close."

Ticket in hand, you turn around and watch the train leave.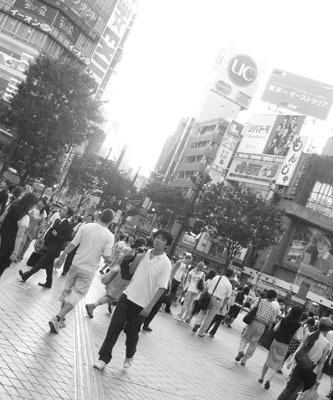 © Sarah H., Wolfforth, TX