Boy next door
May 4, 2012
My mom, my sister and I packed our things and left. We pulled to a stop. I paused. I saw our new home. It was big and very homily. My mom is tall like 5'6' and she has long brown and reddish hair. She had big brown eyes that you could get lost in. My sister Alexis was four years old. She had long curly brown hair and chubby cheeks. She had big brown eyes like my dad. It's like they can see into your soul.
I couldn't understand why my mommy took us away from my daddy. I miss him so much. He was the only one who understood me and now he's gone. I have long light brown hair and big brown eyes like my aunt Caroline. I'm a shy person but I can be fun to be around. My mom started unpacking our clothes and important belongings.
"Ariana honey can you put the cups and dishes away for me?" My mom said, handing me the cups. I accidentally dropped the last one. My mom's face turned pink with anger and frustration with me. I flinched away from her. If looks could kill I would have died right then.
"Ariana, just go outside and play please. I don't need any more broken things ok?" My mom said.
I nodded walking out the door. The sun was shining bright and the birds out chirping their lovely songs. I loved the summer sun. It warmed my face and I picked up a stone and started skipping it. That's when I heard a boy's voice next door. I began to feel shy but then I heard his voice.
"Mommy, there is a new girl next door! Can I go play with her?" he asked.
I felt the shyness disappear and a sudden courage took over my body. I looked both ways before crossing the road. I smiled at the boy. He was an inch taller than me. He had big blue eyes that I could get lost in. He was a little bit skinny. He was cute too.
"Yes honey, go play, I'll come get you when it's time to come in." His mom said. She waved at me and I waved back
"Hi what's your name?" he smiled at me.
"My name is Josh Scott." He said. I notice the pool and I grabbed his hand pulling him towards it. I stopped at the pool, not letting go of his hand.
"Hey wait what's your name?" He asked me still holding my hand. I looked up into his big blue eyes and I feel in love with the boy next door.


"My name is… You're just going to have to wait and find out."

He rolled his eyes and I stuck my tongue out at him. I jumped into the pool splashing him. He laughed and jumped in too. I splashed him and he dunked me under the water.



"That was mean! You are a meanie!!"
I got out of the pool and started walking away. He grabbed my wrist and pulled me to him. I looked at him through my watering eyes. He wiped my tears away and stroked my cheek.



"Hey wait! I'm sorry I didn't mean to make you upset." He said with a sad smile.



"It's ok Josh no worries."



"Ariana! Come home it's time for dinner." My cousin Lisa called.


"Okay Lissy I'm coming!" I looked at Josh and smiled.


"Well I guess you have to go. See you tomorrow?" Josh asked sweetly.



"Okay, my cousin can play with us too! Night Josh."



"Wait, is your name Ariana?" Josh asked me with a sly smile.



"Yes it is. See you." I stood on my tippy toes and kissed his cheek. I ran to my new home. Lisa was waiting for me. She has long dark brown hair and hazel and a bit of green in her big eyes. She is shorter than me. But she is very pretty too. If I didn't have her around I don't know how my life would be like because she always knows how to make me smile when I'm sad.


"Ariana I just got here. Auntie Kimmy said I could spend the night. Ewwy you smell yucky!" Lisa said.


"I went swimming with that boy next door."
I ran inside and changed my clothes to pj's. After dinner Lisa and I put Alexis to bed before we made our bed in the living room.


"Night Lissy, we have big plans tomorrow."


"Night Ariana." She said in between a yawn. I feel into a dreamless sleep. The next morning my Grandma Sue came and picked my sister up and took her down to their house. Lisa and I had breakfast and we got dressed for outdoors. We went to see my new friend Josh. He was outside on the swing set.


"Hey Josh! This is my cousin Lissy or Lisa." He got up and gave me a hug. I blushed.


"Hi Ariana. Nice to meet you Lisa." Josh said with a smile.
We played tons of games till it was time for Lisa to go home. I waved goodbye to her before going back to hang out with Josh.


"What do you want to do now?" Josh asked me grabbing my hand. I smiled down at our hands and he tilted my head up and looked in the eyes before he started leaning in closer. His lips met mine and we kissed for a while until we had to pull away to breath. I smiled at him. That was my first kiss and it was amazing. I was ecstatic about it!

"Ariana do you want to be my best friend?" Josh asked me holding my hand still. I bit my lip. That's when I realized I'm happy to of meet Josh.

"Yes Josh I do want to be your best friend. I have to get home it's getting late. Night josh."
I kissed his cheek once before going home. That was the day I'll never forget the way my heart pounded as I looked into his big blue eyes. The way the world felt still as it was only us on this earth.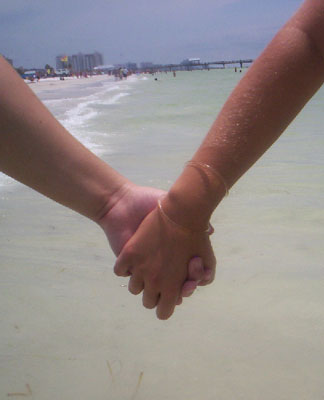 © Belinda H., Palm Harbor, FL