The Sound of Distraction
September 27, 2011
It had almost been like a routine. But not a dull routine full of monotony that some find there self in day after day. For it was always an experience. My father opened the heavy oak doors and letting me go first, we entered the atmosphere, or rather his atmosphere. His hand pressed on my back, he gently guides me, snaking through the small round tables and their few occupants. My ears prick like a deer to the sounds and melodies of the establishment.
I always sat in the booth in the far back. On days like this, no one sat in this vicinity. And that is the way father like it. For one could not see the semi-circled stage at the front. No, they all sat or slumped in the wooden chairs, close to the stage. But as for me, if I sat at a defined angle on the edge of the arched booth, I could see the stage and its scanty audience perfectly.
Father lightly put his hand on the top of my head and displayed a slight smile-a smile that oh so slightly combined the feelings of guilt and hurriedness. Guilt from being not able to bring me home right away and hurriedness simply because of him being the owner. He places my school bag by my feet under the dimly lit table and walks away, his footsteps being traced to the back of the club and through the heavy swinging doors.
I laid my head back. The same rip was in the seat as always; waiting for me every Wednesday. It was shaped almost like a frown. But I knew that if I sat on the opposite side it would then transform into a slight smile. The tufted booth was a vibrant red but it shown eccentric vermillion under the low hanging lights that glowered over it. I loathingly and with a heavy sigh began to take my school books from my leather satchel and stack them, as if a tower, on the table.
For a strange and inexplicable reason that any teacher would disagree with, I never felt even slightly compelled to open the tattered spine of the books that lay in front of me when I was here in this booth, in this place. It was not that I didn't find some of their contents interesting or had difficulty with the lessons that were taught; but because the environment positively distracted me.
Few people ever can sit and do nothing like I often do. Few people can be so euphorically enthralled with the atmosphere that surrounded them. But to me it was the perfect place. The perfect place for observant eyes.
I look around the club. People, mostly men, are sitting in the wooden chairs, a clear glass of brawny colored liquid, a slender glass of wine or the strong rich smell of espresso in white cups sits in front of them. Even though there is no smoking allowed in the club a drifting scent of cigar smoke occasionally flutters in from the opening and closing of the doors along with the frigid air of the wind.
There are the couples who occupy the front booths, who look at each other often with trancelike eyes as their shoulders subtly, sway to the piano being played. And there are the business men who with their foot on one knee, mutely tap the table with their fingers going along with soothing rhythm. The piano is on the back of the platform, that every one called a stage. A hunched figure in a tweed jacket is over the ivory keys, his fingers making quick movements as he presses each one of them. Another man plays beside him with a gleaming trumpet raised halfway in the air. The music always has a certain aristocratic feel that makes one feel at ease.
I startle as a glass of water and a bowl of crackers is set before me. I look up and it's Joe; the bartender. He smiles and his eyes glitter with kindness. I smile back and he returns to his place behind the long marble counter. Joe has always been my father's best friend. My father trusted him always and he relied on Joe's keen eyes to glance over and check on me while my father was busy in the back room filling orders or counting the money made over the weeks.
I lay my chin on the palm of my hand, my head cocked in view of the stage and my eyes remain softly closed as I listen to the various sounds. The clinking of glasses, whispers and sporadic laughs, but they soon fall silent as if some supernatural force has hushed them. I open my eyes and see the reason that many are here tonight. She gracefully takes the stage and settles herself in front of the silver microphone. She wears a long fitted dress that brushes the ground, her long brown hair encasing a face of ivory skin and red lips. She slowly grasps the top of the microphone stand. A choppy applaud pulses through the place and soon the audience hushes themselves with eager faces, waiting to hear the sound of her voice.
This place served as a den of comfort to people. Outside, the city streets offered nothing but mere cold and scrutiny. The stone streets were slicked with a glossy ice and a harsh wind fluttered every awning over the shops. People walked at a speed of carelessness and seemed to be in a constant hurry. But it was different here. It was warm and relaxing, not much changed and that appealed to many; the fact that there was little change. I had observed many times before that a rare handful of people weren't as fond of change as the rest. They liked the way things were just how they had been. The sound of the piano and saxophone was as common to their ears as their own voice and the glass in front of their tightly buttoned coats served as a place for their worn hands. I often liked to think of myself as part them but I think it was too soon to tell.
The singers name was Lucy Golding. She came here every Wednesday and Saturday if she wasn't booked for another club. Her voice was soothing as a lullaby and was a voice that complimented the trumpet and saxophone as they did her. She sang of numerous things but mostly of things that didn't cross peoples mind day to day, which was why most people listened so intently; because she was unpredictable. She wasn't lost in a fairytale like she seemed to be though. Her lips uttered the phrases of simple matters such as love, blues and the sea. I had never been to the sea but a hunger to was always heightened whenever she came. Her words painted a vivid image in my head. The waves sparkling, a pearly moon over a watery land, ships coming in and out.
I yawn, not from boredom, but from being literally lulled to the point of feeling tired. I finally fall into a deep sleep to my dismay.
I awake at the touch of my father's hand on my shoulder, signifying the time to leave. I lift my head to find only a scatter of people and the soft melody of the piano ringing from the stage.
I glance at the books in front of me, not one of them opened.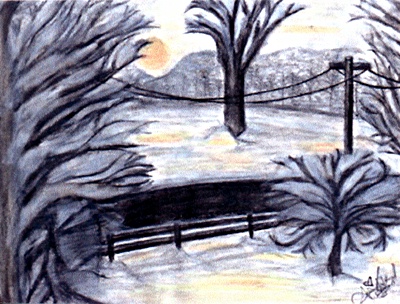 © Amanda W., Nanty Glo, PA