Monster
August 15, 2011
Anger boils inside me as I feel the urge to break something, make it hurt or feel as broken and incomplete as I do.

I claw frantically at the mask plastered to my face, but it is too late. The mask of what I have become is fused, glued to my face by pretension, disfiguring who I am. Behind it lies my imagination, my sensitivity and even my fear.

When I glance at my reflection, I see a stranger. Staring back at me from the death cold mirror are two large, frightened eyes that I claim as mine. But they are set in the face of a monster, who consumes me slowly from the inside out.

I long to feel the weight and tension of the mask lifted, but then, without this mask of horror, I am nothing. I have no power, no charm, no women throwing themselves at my feet. But is that really what makes me happy? Or maybe this is why I train myself not to think? For when I do, it brings unhappiness.

There comes a knock on the bathroom door that shatters my panic.

"Katie, you in here?"

Slowly, my hands drop from my face as I gaze into the mirror. I give the monster a forced smile. Something is wrong. Tenderly, I bring my hands up and readjust the mask. Image is all I have.

"I'm coming, Kayla"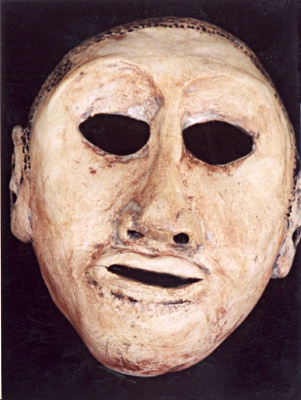 © Arturo Y., Tracy, CA