Musician
December 18, 2010
The church is bare. The desolate pews groan silently beneath the weight of the impatient ghosts. They shake their feet, wiggle their toes and twiddle their thumbs, waiting for something to happen. Soft white light flows and flutters around us, within us; bounces back from every solid surface, strokes our glowing faces tenderly.

Oh, if only the ghosts could see.

But somehow, I know they can hear their surroundings talk.

The shiny stage sighs with each footstep. The mahogany bench curses as the musician seats himself. The grand piano greets him warmly.

I can hear everything. I can hear the lights breathe and the floor twinkle. Everything has suddenly come to life in this empty place.

But he can't see me.

He strokes the keys affectionately. They are porcelain. He must be gentle so as not to break them.

Music swirls in the air. The winking lights twinkle brighter, shine louder. The windows smile. The walls block the beauty from being released into a most tainted atmosphere.

No, that would ruin everything.

The piano's sweet sound swells and envelops me in warmth and comfort. I turn green with envy and jealousy, blush scarlet with affection.

The ghosts bow their heads in reverence to the musician, in prayer. They are silent, eerily still, absorbing the music. They become solid. They are given new life, born again to walk among the living.

I myself stand alone in the corner of the chapel. I breathe the music,

Feel it flow through me like a warm summer breeze.

It ends.

The musician stands and bows to who he thinks is no one.

The ghosts give him a standing ovation.

He stands upright, tears rolling down his olive face.

In that instant,
I am in love.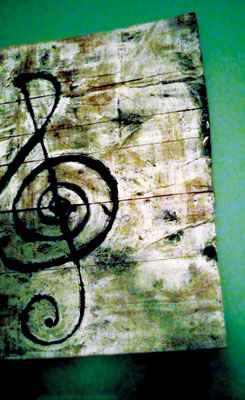 © Olivia K., Canton, OH