Reality Isn't a Fairytale
August 10, 2010
A beautiful mansion, Victorian, pink-tinged white with scalloped trim. Brightly colored curtains flutter in the windows and the swing on the wraparound porch creaks in the light breeze.

A suburban house, grey stucco with a crumbling roof. The windows are all empty, and the front door that she just ran out of gapes open. The building is dull, lower middle-class, and thoroughly unwelcoming.

Wearing a ruffled white sundress, a woman leans on the railing, looking at the sunny sky. She runs a hand through her long hair before holding the hand out in front of her and admiring the diamond on her ring finger.

In dirty sweats, a woman glances up at the stormy clouds boiling overhead. Her fingers rake at the tangled mess of her hair, but after a moment, she takes her hands away. She yanks off the gold band on her left ring finger, chucking it out of her sight.

Handsome as a prince, a young man comes up behind the woman, wrapping his arms around her waist. She laughs and tilts her head up to see him. He kisses her softly, a smile on his lips.

The woman stands alone, clutching her arms around her chest to hold herself together. She cries silently, tears staining her cheeks with salt and stinging her bloodshot eyes. She bites her cracked lip, keeping the moans of despair from escaping.

Their life is perfection. A princess and her prince in their storybook castle. A future of adoring children, undying love, and never-ending happiness.

The house slowly falls to pieces as she weeps, her child gone with the man who set the house on fire. When the fire trucks and ambulances show up, she turns away, leaving her childhood dreams of a fairy-tale life buried in the ashes of what used to be her home.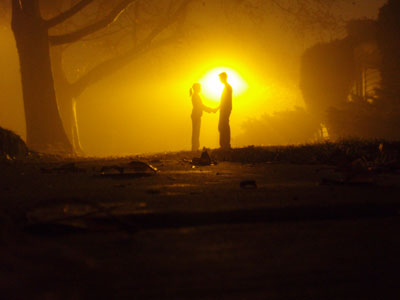 © Tanner H., Kaysville, UT