Faceless
January 22, 2010
I stared at the faceless person in the mirror. That's really what she was, faceless. I remember the girl who used to have a face, the girl who used to have a life and a future to look forward to. This girl in the mirror has none of that.
I pulled on my skin tight, ripped jeans, added my black, torn, excuse for a top. Not that it covered anything... Except for my arms, my shirts always covered my arms.
I looked in the mirror one last time. Not only did I not recognize the girl under the skin, I couldn't recognize the one on top of it either. My face was covered in so much makeup it would be impossible to read; I guess that was the point.
I walked out my bedroom door and down the stairs. My dad stared at the TV. I wonder if he even noticed that it wasn't on. I thought about saying goodbye to him but it's not like he would hear me.
He doesn't eat, doesn't sleep, doesn't move. Not without my mom.
I walk outside and head for my disgusting life.
The bus picks me up near my house. I go on with a smile, like I'm somehow happy. Yeah Right.
Rick waves at me from the seat on the left.
Rick– Two times. Two different nights.
Steve rubs my thigh when I walked by him.
Steve – Five times. Four different nights.
Daniel smiles his brilliant smile from the backseat.
Daniel – Current boyfriend. Times? Lost count. Nights? Who knows.
I slide in beside him. He grabs my face and kisses me. My stomach rolls over. He tastes like smoke.
A lot can happen in six months. In fact, a lot can happen in six seconds. That's how long it took my mom to die after being hit by a drunk driver. He was driving on the wrong side of the road in the middle of the night. She was coming to pick me up from a party. She never came. She died and it's all my fault. My fault I didn't get someone else to drive me home. My fault I stayed so late. My fault I even went to the stupid party in the first place.
I'll never, ever forgive myself. No matter how long I live.
Daniel wraps his arm around me. He's soaked in clone. I feel like I could drown in it. Not that drowning would be a problem.
I can't remember why I started dating Daniel. Don't get me wrong, he's hot. But honestly, he's a total jerk. I've been dating him for, who knows how long, and we've never even had a real conversation. That's probably why I've kept him around for so long, real conversations mean feelings and I HATE feelings. I wish mine would erase, I wish I was a zombie. There are never enough happy emotions to replace all of the awful ones.
??
"Hey Briana, how are you?" Nick asked, wrapping his arm around me in the hallway. I'm sure he planned his moment perfectly, he wasn't such a fan of Daniel and he liked to avoid him at all costs.
Nick – Best friend. Times? Zero. Nights? None.
"I told you to call me Bre, I'm not Briana." Briana is who I used to be. Briana is who I'm not.
"I like Briana better." Obviously Nick would like it better. Nick remembers when I switched to Bre and I'm sure he has figured out why I did it.
"Fine, Nicholas."
"Don't call me Nicholas! That sounds so nerdy! I'm trying to improve my image, remember?"
Of course I remember, Nick has been trying to improve his image forever. He's not exactly a jock, but I love him just the way he is. And it's not like he isn't attractive, in my opinion, he's super cute. But then again, I sort of have a thing for not so jockish guys. Well... excluding the fact that I'm dating one.
Nick has curly dark brown hair that is getting a little too long and is beginning to fall into his dark blue eyes.
"Then don't call me Briana!"
"I've never liked Nicholas, you used to like Briana." Nick says under his breath. He doesn't want me to hear and he's not trying to be mean. He's just being Nick. Just trying to look out for me.
"You weren't in math class today." Nick noted, trying to change the subject.
"I don't really like class."
The bell rang.
"Well, I do like class. I can't imagine that you might want to come with me?" Nick asked, not looking hopeful. He knew my limits; he knew not to push them.
"I hate English class. Daniel and I are skipping."
Nick's face sank and then twisted. He has never been Daniel's biggest fan, even before we started dating. As far as Nick is concerned, he's a bad influence on me. It's funny how my best friend is the closest thing I have to a parent. Actually, it's not funny, just true.
"I'll see you later then." Nick said, and without another glance he walked away.
??
School's over for the day. Not that I attended any of it. Daniel has his arm around my waist. The feeling is uncomfortable. I'm use to him touching me, it just... it just didn't feel right. It felt like an act. I didn't love Daniel, far from it. He was just my escape. But lately, he wasn't even that.
He's walking home today, and so we're saying our goodbyes in front of the bus. He wrapped his arms around me, squeezing my waste.
Daniel has short black hair. Brown eyes. He's the captain of the football team – every girls dream right? No, I'm not head cheerleader. I'm not even on the squad. Anyways... being a football player makes him really bulky and muscular.
His lips slowly moved to mine. I closed my eyes and kissed him, but it didn't make me happy, it didn't feel nice, it just felt necessary, like that's what I was supposed to do.
His lips crushed against mine and I soon found myself pulling away for air. I opened my eyes just in time to see Nick's face.
Only one word could describe his face, it wasn't sorrow, or unhappiness, it was heartbreak.
I quickly closed my eyes to hide from his face, but that was the worst thing to do. Nick's face disappeared, but in replacement, it was my mom's face, clear as ice. It resembled Nick's; it showed the same look of heartbreak. This wasn't an allusion but a memory. I remember this day, the first day she had ever caught me drunk after a party. Her face made my stomach spin and my head ache. That day, after seeing her face, I swore to myself I would never drink underage again. I felt a knife stab my gut. I'd broken that promise many times over in the last couple of months.
Less than a second had passed since I had seen the two faces. I quickly opened my eyes again and saw Daniel opening his.
He was smiling, that was the last thing I felt like doing.
I turned away before he could see the torn expression on my face. And by he, I don't mean Daniel, I mean Nick. He was still staring at me, and he would be the only one to really see the pain in my eyes.
I've learned that people can lie. Expressions can lie. Voices can lie. Eyes, they cannot lie. Or at least, mine can't, Nick would see right through them and he didn't need to see my pain, it's bad enough that I had to suffer through it, he didn't need to.
Without another look at anyone, I climbed onto the bus.
??
I can't get the image of Nick's face to leave my mind. My head is throbbing, my heart pounding.
Once I get home, I don't hesitate at the front door, or in the hallway, or even when I climb the stairs. I know exactly what's going to follow once I reach my bathroom door, and honestly, I can't wait.
I swing open the door, shoving it shut behind me, sinking myself to the floor.
I get onto my knees and crawl to the drawer, pulling out a sharp silver blade.
I pull up my sleeves up, revealing the scars. Unlike normal cuts, these didn't represent a fall on the floor, or the slam of a door. These scars represented my pain. My anguish. My torture.
I grasped onto the blade as hard as I could, I felt it dig into my palm and fingers.
With one deep breath, I start where my cuts leave off, dragging the blade across my forearm. I feel my skin open up. I feel the blood start dripping down my arm. It feels remarkable. It feels exhilarating. It feels beautiful.
Nobody can hurt me as long as I hurt myself first.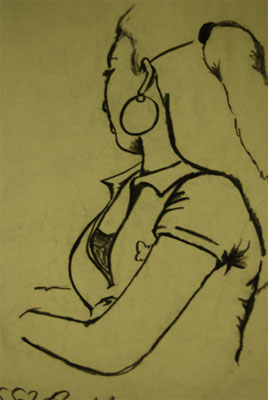 © Janessa B., Kannapolis, NC