Four Little Words
January 25, 2010
I can barely see because my visions blurry. My cheeks and chin are damp with my tears. I can taste salt on my lips from the snot that's dripping down. I sniffle every once in a while, thinking boy do I need a tissue. I wearily turn the corner to reach my destination, home, where once I step in, a portion of my troubles melt away. I climb the stairs to the very last one. Before I step on it, I notice that it's different from all the other steps, alone and isolated. I skip the step, and go to my inglorious room. I start to empty the contents of my pockets, when my finger brushes against two of the following: a picture of my best friend and I, and a crumpled piece of paper with someone's number on it. I start to cry once more, and flop on my bed. I wish I didn't do that, I thought. I wish I could take it back, and replace the words that came tumbling out of my mouth.
It started on a Monday, at my best friend Arianna's house. We were hanging out as usual, with nothing to get between us. I was starving, so we went to Subway to get something to eat. When we got there, we ordered our meat packed sandwiches; we found the cleanest table, and dug in. Next to us was Arianna's ex boyfriend. Out of habit, I grin at him, and wave, not realizing who that was. His cheek bones were outlined with a pinch of pink in them. He nervously says hi, a little too quickly I think. I return the pink color with a little stiff nod. We both then turn our back to each other, and finish eating our lunch. When we're all done, we gather our stuff together, and she announces she has to go to the bathroom. I tell her I'll wait outside for her. A little while later, "he" comes out. I smile, and he smirks, and says hi. We start talking, and somehow, I end up with his number in my back pocket. I pause, see Arianna coming out of the bathroom, and shove it in my back pocket, just as she opens the front door.
We start walking home, and she tells me all about her and "him", and why they broke up. I must have been so shocked, because she kept calling my name, and I didn't answer. She asked what was up, and I told her about the number. She got mad, and started walking rapidly without me. She couldn't believe I did that, and I told her we weren't friends anymore. I regret saying the four lousy words that look horrible in a sentence when they are together. I wish I could replace them with I'm sorry.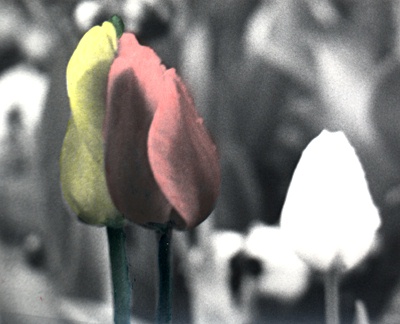 © Matt B., Highland Village, TX