Mistakes
December 25, 2009
The road seemed to be hugging the mountains as if it was cringing in fear from the perilous drop of emptiness to the right. A car screeched as it whizzed around a corner. One of its tires sent a rock plummeting down to what lay hundreds of feet below.
The people in the car were caring nothing but enjoying the moment at present—loud music in their ears, the windows down and piercing cold wind streaming through their hair, and trill in their hearts as the car gained speed. In their intoxicated state, they had the urge to laugh, and so they did. Their giggles were carried out into the night, and the car vroomed louder as if in agreement.
The car headlights allowed the view of no more than a few feet in front of them. The yellow strips on the road seemed to move from side to side, and the snow was a cascade of indiscernible white specks in the people's blurred visions. Everything else was swallowed in darkness. There were a few faint silhouettes of the swaying branches and the rocky composition of the mountains, but nothing more.
The car rounded another mountain, and then sharp light was suddenly upon their eyes. It was like a pair of flashlights in a dark room, catching the culprits unawares. Then began confusion so slow and yet so fast, so silent and yet so loud. The man turned the steering wheel frantically, but the scrape of metal and the shatter of glass were soon heard. Everything became focused into clear sharpness. The night seemed to hold the rhythm of heartbeats.
The people knew that nothing could stop the motion. Bodies slammed against the dashboard, and the cars skidded across the road. The thin rail couldn't hold the car; it was like a plastic bag tearing open under heavy weight. The tires slipped, and all hope was lost. A scream sliced the air and then faded away like the last cry of a dying bird.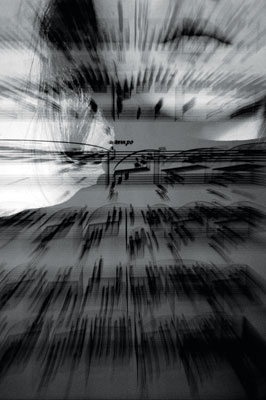 © Sarah M., Blairsville, PA