The Girl in Red
May 7, 2017
The little girl in the red hood stood at the crossway, staring down at the two paths. One held a dark, sinuous road with gnarled trees creeping down the winding path, begging to snatch her away; the other one showed a sunlit blue road with birds chirping, emanating a blithe, lively spirit. 
Oh, how she coveted that path; it looked so easy and hopeful. Yet she knew she did not deserve it; she knew that she had to acquiesce to her fate. This was the retribution for her mistake so that she could earn her grandmother's forgiveness. Why was she such a wastrel? Why couldn't she force herself to stop
spending her family's fortune? Why had she thought that she was insuperable, that nothing could stop her? Why was she so naive? 
She sighed lamentably, grieving at her own stupidity. Allured by the idea of proving her grandmother wrong, she had thought the loss of riches would not matter just to see that nagging contentious woman shut up. She just wanted to stop hearing about all of her faults, to stop hearing about how she wasn't good enough. Eventually, after the mistake, she professed to her grandmother her sin, but it could not be undone. She had sealed her fate.
Crestfallen, she supposed that she wasn't good enough after all. She wanted to give up, to take a brief respite to simply
catch her breath, but she couldn't make herself. Even though she had dug her own grave, her family still had a chance. She had to help them. 
She stared at the path ahead of her, at the unnaturally askew branches that hung on those eerie trees. Behind her, the echoes of deep, sonorous voices could be heard; she knew she had to hurry up and make her choice. She took a deep breath and charged into the dark, ominous forest.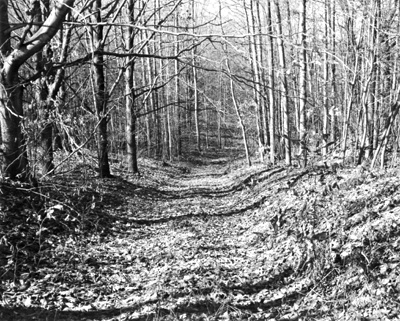 © Nik F., Clarkston, MI