The Discovery Part 2
May 10, 2010
When we awoke the next morning, we (and I mean Manuel belligerently) made a decision to camp on this beach.
"Hey Tom," I called. "Would it be alright if we used parts from your plane to make some shacks?"
"I guess so. She's completely totaled."
"Thanks." So, after going MacGyver, we had two metal and wood huts with bunk beds.
"Now then," Manuel stated. "We should find some food and fresh water."
"No duh!" I mocked. "Let me guess, 'Also, you two should go and search for food and water while I protect the women'" I mimicked.
"No! Not at …well… kinda…maybe…yeah"
"Well, it's an okay idea, but I think the girls should choose who stays behind."

"Actually," Janine spoke up. "All three of you should go in case one of you gets hurt; the other two can help him back."
"I, like, totally agree with that plan. But, what will they use as pokey things to kill with?" Juliet asked.
"The propeller props should work nicely, they just need to be sharpened."
As we walked to wards the wreckage once more, I noticed something in the tree line.

"Guys," I said as I beckoned them closer to it. "We're not alone here." Just then I held up the item in question, a human skull with an arrow head stuck in the back of it.
"Holy c***!" Manuel screamed.
"Shut up you cry baby!" Tom bellowed. "If there are inhabitants, we should seek help."
"Agreed," I said. "But let's make the weapons and bring the girls so we don't get separated."
"B-b-b-but w-we m-m-might end up as s-s-skully here! Waaahahaaaaa!" bawled Manuel.
"What a loser," Tom said as we headed to the plane.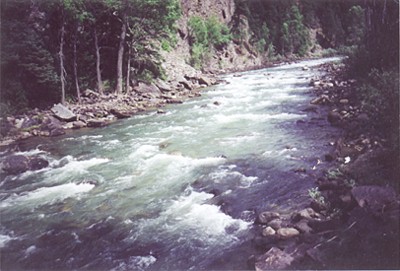 © Reisha R., Bowie, TX