King Kong (1933)
April 12, 2018
In 1933, the original King Kong film hit the silver screen featuring some pretty heavy genres: adventure, sci-fi, and horror. It was a sensational film that went as far as to add in a romantic storyline not only between an attractive young female lead and her hero, but also between the girl and the very beast that the film is centered around.

The film follows the story of a small crew who are employed by cameraman Carl Denham (Robert Armstrong) to embark on a voyage to an unknown location. Denham's wish is to create a romantic photo shoot, which he accomplishes by employing Ann Darrow (Fay Wray) to be a model for his shots. They set out for Skull Island (why on earth anyone would want to go to a place with such a name is beyond me) in the hopes to find whatever had so shocked and destroyed a crew that had traveled to the island previously. Upon their arrival, they clash with natives and unintentionally set into motion the main conflict of the film. Upon seeing Darrow, the natives see an opportunity to sacrifice her as Kong's bride. And so the film tells the story of beauty and the beast.

As far as old films go, I thought that King Kong actually was pretty advanced for its time. It had relatively good acting (despite some pretty obvious exaggeration that is synonymous with early films) as well as an interesting plot that kept viewers captivated. The genres all melded quite well together, as one might expect because really, what would a good sci-fi movie be without a little bit of adventure?

Living in modern times with movies such as those in the Transformers franchise that compared to King Kong (1933) featured notably superior CGI, I found it a bit difficult to handle Kong's unrealistic appearance as well as those of the other prehistoric beasts in the movie. Kong appeared to be the stuffed toy that I gave to my three year old cousin for Christmas this past year, and the dinosaurs looked like any old plastic or clay model you might buy or commission for a classroom or your children. I think I cringed a little bit during scenes when Kong carried leading lady Ann Darrow (Fay Wray) through the jungle; it was quite obvious that Darrow was played by some sort of figure or doll during these scenes. I can't judge too harshly though; the movie was made nearly 85 years ago.

I also couldn't help but notice that, despite the nearly two-hour length of the film, all of the drama was rushed and hardly all that significant to the main plot. If none of the dinosaurs had tried to attack Darrow, Kong would still have brought her further into the jungle and her human love interest (John Driscoll, played by Bruce Cabot) still would have come to save the day. It seemed that there was quite a bit of pointless action whereas films today tend to use any and all conflict to advance the plot.

Despite all of the flaws that I found with the film, I actually really enjoyed watching the film. I think it's earned the title of "timeless classic" at this point; it has its name engrained in audiences from many different generations and has even earned itself several different sequels and remakes. I would highly recommend any film fan watch it, even if they get caught up on the fact that the film is entirely in black and white and might even be older than their grandparents.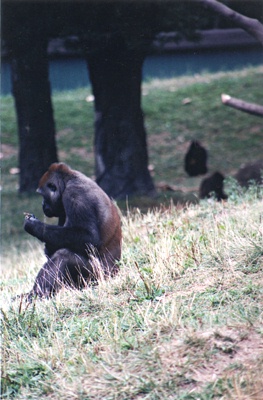 © Michelle P., Pittsburgh, PA