That Thing We Call a Heart by Sheba Karim
February 6, 2018
Synopsis (Goodread):

Shabnam Qureshi is a funny, imaginative Pakistani-American teen attending a tony private school in suburban New Jersey. When her feisty best friend, Farah, starts wearing the headscarf without even consulting her, it begins to unravel their friendship. After hooking up with the most racist boy in school and telling a huge lie about a tragedy that happened to her family during the Partition of India in 1947, Shabnam is ready for high school to end. She faces a summer of boredom and regret, but she has a plan: Get through the summer. Get to college. Don't look back. Begin anew.

Everything changes when she meets Jamie, who scores her a job at his aunt's pie shack, and meets her there every afternoon. Shabnam begins to see Jamie and herself like the rose and the nightingale of classic Urdu poetry, which, according to her father, is the ultimate language of desire. Jamie finds Shabnam fascinating—her curls, her culture, her awkwardness. Shabnam finds herself falling in love, but Farah finds Jamie worrying.
With Farah's help, Shabnam uncovers the truth about Jamie, about herself, and what really happened during Partition. As she rebuilds her friendship with Farah and grows closer to her parents, Shabnam learns powerful lessons about the importance of love, in all of its forms.

Featuring complex, Muslim-American characters who defy conventional stereotypes and set against a backdrop of Radiohead's music and the evocative metaphors of Urdu poetry, THAT THING WE CALL A HEART is a honest, moving story of a young woman's explorations of first love, sexuality, desire, self-worth, her relationship with her parents, the value of friendship, and what it means to be true.

Plot:
Shabnam was born to stick out. She was a Muslim-American, although she did not embrace her Muslim side. With her parents, her father an awkward mathematician, and her mother (in Shabnam's eyes) a saint, but there was a lack of love that Shabnam wanted. Sure her parents were not a match made in heaven, but did her father even love her mother? After each forgotten birthday, struggling to mow the lawn, Shabnam takes it upon herself to set her father strait, before she leaves them in the fall for university. Then there is Fran, her rebel with a cause friend, who Shabnam fell in love with, but stopped when Fran decided to take it to the next step and start wearing a hijab. Not understanding why, Shabnam takes a step back from Fran for fear of the stereotypes, she faces losing friendship based off of her mediocre society. When Jamie comes into her life, it is an amazing break from the parents and the Fran drama, as Jamie finds her fascinating in all aspects. Shabnam thinks Jamie is the key to all her troubles, as they share passionate kisses in the pie shack, she knows Jamie is the one, if only he told her he loved her too.

Thoughts:
Even the plot points of the Muslim-American aspect could not keep this story afloat. Think of the first time you fell in love. The crazy, obsess driven, you would do anything for that person. This love at the moment is the only thing carrying you, as this love is the love you experience when you are young. Shabnam fell head over heels for Jamie, who did not give a damn about her in any way. A summer fling, someone to spend a few nights with, it was nauseating of how Shabnam painted Jamie, knowing that this will not end well. The parent part Karmin brought into the novel was good, and the family dynamic of this book was nothing special but okay. Shabnam's issue with Fran just proves her to be a horrible friend (as everything was about her), and how she did not want to stick out of their white class society (but it was Fran's standing out style that drew Shabnam to her to begin with) thus, they cannot be close for what Fran does with her head. Shabnam's personality is the worst, and where her awkwardness is cute sometimes, how she treats others (her mother, Fran) is horrible, she places undeserving people above other (Jamie), and lies about her past just to make people interested in her (The lie about the Partition of India). The book appropriately titled That Thing We Call a Heart as Shabnam truly needed hers to be broken before she even realizes she had one.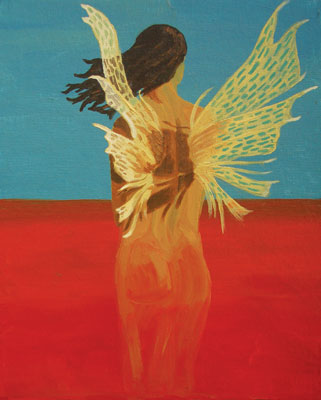 © Allison F., Langhorne, PA