The Crown (The Selection #5) by Kiera Cass
October 24, 2017
The Kingdome of Illea worked as a monarchy. With the King and Queen taking the caste of Ones, and the rest of the citizen fall all the way down from Twos to Eights. The prince, before he ascended the throne would hold a competition called the Selection. Thirty-five girls of Illea would be chosen to compete for the prince's hand and the title of queen. Prince Justin found his Abby during the selection, who became the mother of his son Clackson. Clackson, a cold, calculating man, found love with his Selection falling for Amberly, who later years gave birth to his son Maxon. Maxon, the most well-known, found his fairy tale love in America, and together they changed the kingdom. Their daughter, Eadlyn, if abiding by old rules would be married off as her seven-minute younger brother, Ahren, would take the throne. But seeing both children as equals it would be Eadlyn, the eldest, to take the throne. Never before a male Selection started to settle unrest in the kingdom, as thirty-five young men, compete for the lady Eadlyn's hand. Playing dirty Eadlyn plan was to finish it unmarried, but after a sudden heart attack from her mother, Eadlyn realize how much is riding on it. To save her crown, and her kingdom, Eadlyn must do the one thing she thought no cable of: falling in love, as she takes her Selection into the Elites, there could only be one winner, the question is who.
The Selection is down to the last six: Gunner, Kile, Ean, Hale, Fox and Henri. With her mother's recovering, Maxon takes a 'leave from work' to stay with her, leaving Eadlyn fully in charge. Acting as Queen, working through her selection, dealing with the loss of her twin, Eadlyn surprise all as she goes day to day, date by date, without breaking down once. With a surprising visit from Marid Illea, the son of August and Georgia, who promises to be Eadlyn ally. The fight between August and Maxon was when August step out of line, yelling at Maxon that the take down of the caste system was not happening fast enough. The next day August left with his wife and son, never talk to the Schreave again. Wanting to repair this relationship, and knowing how popular Marid is with her citizens, Eadlyn agree to take his advice. From a face to face 'Town Counsel', allow ordinary citizens to talk to Eadlyn about what they seem change, to her council wanting to start a war with France, because of Ahern's decision to leave.  Seeing how happy her father and mother are, to finally take a break and just be themselves, Eadlyn, ask her father, for his sake, can she ascend the throne now, rather than later. With more unrest in the kingdom, her coronation ahead, Eadlyn must allow her heart to choose as she narrow her boys down from six, to five, to three, two and then one.
Kiera Cass started off this series with America age seventeen, and ended it with her daughter Eadlyn age eighteen throughout the two books. Where three ended with the wedding of Maxon and America, you can assume five will with Eadlyn and whoever she chose. Cass did an amazing job keeping that a secret, as Eadlyn, never showed any favor to a boy in particular, only to fall in love with all of them, when it came down to the Elites. Still it made perfect sense who she eliminated as six, and why five and four went down so quickly, and who left at three, and a bit of a shock, but one again that works, on who she chooses to marry. Logically it made sense, but Cass knows the heart does not run off facts and figures. She gives the twist of romance, making it feel like you are ready about America and Maxon again. The written was to the point, with little twist (no overtly big ones) as she wraps this beautiful series up, featuring heartwarming lines like: "Maybe it's not the first kisses that are supposed to be special. Maybe it's the last one". Eadlyn gets her fairytale romance, using lines like "The world woke up when I looked at him", as our ice princess who built walls to protect herself, becomes the sun queen, letting her love go to the people, her family, and to her love.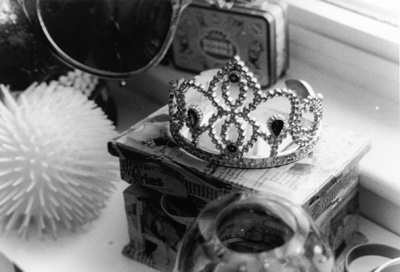 © Bayta R., Beverly, MA