A Memory of Change
June 24, 2012
Chalk and dust filled the gym air. I remember how it felt, on nights like these, to stand there on the darkened beam, dampened from the constant moisture in the evening air. The winter's chill came in through the door filled with the sounds of one of my teammate's quickening footsteps as she sprinted past, down the narrow runway. The light, staccato beats were followed by a sturdy "thunk" from the springboard as her fast feet hit it. Looking up, I could see a few people weaving in and out of the large, square opening between the floor area and the rest of the gym. Another few were off to the side, perfecting a certain skill under the harsh criticism of our coach, Holly. I surveyed all the other gymnasts across the room, all too deep in concentration to notice my watching eyes. I couldn't help but feel the overwhelming gap between myself and everyone else. The beam area remained empty and gloomy, reminding me again that I was completely and utterly alone, my stressed eyes tracing back and forth along the wooden structure, stalling, and avoiding the inevitable…

I can remember now where the frequent occurrence of nights like these had started: My first year of level 6 gymnastics. I had had many troubles moving up from the easier tasks of level 5, but the most foreboding new skill was the back walkover on beam. To complete this skill I had to, while standing on one leg, followed my hands backwards to the skinny beam behind me, and then pulled my legs over the top of me, until I was back in an upright position. In my first few months learning the back walkover, I had made little progress. Fear and inflexibility held me back from the fast pace of all the other girls. Though I put in all my effort, I consistently pulled my legs over to the cold floor, instead of back to the beam. Each day I tried to face this challenge with determination. The more I repetitions I did, however, the more I felt my loss. Every back walkover that I failed to complete successfully came with its own punishment: a sharp sting in my lower back and an agonizing ache in my upper thigh. I knew I needed to make a change fast, and that the more repetitions that I did wrong, the stronger my bad habits became.
The next few months went by slowly, as though I was walking through mud. The change in my performance that I endlessly hoped for did not come. My dread for beam placed a constant shadow on everything else that I enjoyed. The excitement of tumbling, the rush of flying powerfully over the vault table, the light feeling of swinging effortlessly on chalked up bars; all of this only led up to the horrible hours when I was confined to the beam. Even during the undemanding hours of school, I was just passing through the motions, stressed and tense. I fell off the beam on that skill at every single competition of that year. While all the other girls experienced the pay off of their hard work, my achievements were always limited, always dampened by my insufficient performance on the beam. Despite the constant encouragement of my teammates, and the attention from my coach, I was utterly alone, in every way possible. I needed a change; this was not the year that I had asked for. I wanted rid of this inescapable shadow.

The following year my coach and I made that change, but with little success. I now competed a back extension roll in place of the back walkover, the only other skill allowed to take its place. Instead of bending over backwards, I now rolled across the beam on my back, and shot up into a handstand, once my hands reached the beam. I had never seen any other gymnasts perform it at a competition, but I was glad to have the option. The back extension roll, to my surprise, was far less frightening and less painful for me. The relief of this washed over me, reducing much of the heavy weight that had rested on me the previous year. However, as time went on, I realized that all my newly found hope was of no use; Even though the back extension rolls were easier, I could not complete them and stay on the beam.
Like a repeat of the previous year, we tried different things, endlessly adjusting, but no matter the effort, the same discouraging results followed. I was always the last one on beam, left there with my burden, able to face it, but not to defeat its irrepressible means. I felt completely incapable and inadequate, as if I was a color blind child asked to distinguish sky blue from forest green. My efforts to make the skill were all futile, and although the year was sufficiently better, I still went through it without making a single beam routine at a competition, and I made even fewer back extension rolls in practice than I had of back walkovers. I was left with even less hope than I had had the year before. It had been drained out of me like sand in an hourglass, and sadly, I was used to its absence.

At the end of these two years, our team was told horrible news. Our coach of five years was moving. It felt like betrayal to every single one of us, and I had no clue whether the gym itself would still continue or not. The team shrunk dramatically, most accepting the likely reality that there would no longer be gymnastics in Port Townsend. I tried out for a dance team, ready to accept this news too, thinking that maybe it would healthier for me; maybe it was better that the decision had been made for me. However, to everyone's surprise, the gym did not close. Our heavy equipment was carried up a flight of stairs, by many dedicated parents, and squeezed into a tiny room in the Port Townsend post office. With the search for a new coach coming out unsuccessful, my sister, Bri stepped into the position. I strangely found my self back in the gym, which was somewhat of a surprise to me. I guess I simply couldn't stay away. Regardless of the good and bad, it was home to me. Only one other gymnast carried over from our previous team of thirteen girls, to that new minuscule team of six. It was almost laughable, and at the end of that summer, I found myself in front of Bri, again in tears like so many times before, confused as to what exactly I was doing there.
Two years had gone by, and here I stood on that same beam. I thought back to all that had happened, and the sad memory of being left on the beam, enveloped in the cold and loneliness. I needed to rearrange my thoughts of the past in order to take my next step forward; a step that I knew would affect the following year immensely. My eyes were swamped with fresh tears that had already overflowed some and rolled down my face. Bri was waiting, a few feet away, for me to collect myself, watching with curious eyes.

At the beginning of that summer I had decided to do back walkovers again. I suppose that I hoped that the year I had taken off from the skill would be enough to shake away my bad habits, enough so that I could retrain the skill correctly. However, by the end of the summer, even though I would have preferred to deny it, I knew that my bad habits were not gone. I was terrified to think that this year might be just like the rest. It was on this day that Bri questioned my previous decision, as I constantly did myself, and proposed making a switch, one that I was terrified of. "Go back to back extension rolls," she had suggested lightly, as though it was a phrase that deserved that delicate of a tone. This is what had started my stream of tears. I just couldn't do it. I was desperate and had begged her to reconsider. I just so badly wanted a change, and although returning to back walkovers was not the change I needed, I was satisfied enough, knowing that at least it was a change. What I didn't realize then was that a difference that had already been made right before my eyes. There was one person who could help me make a change, but I looked at her then, not noticing her significance. I had a different coach. I could not seem to make the change crucial to completing either skill effectively, but I was about to have help.

Bri eventually talked me into doing back extension rolls again and she worked with me for days on end. I could see the determination in her eyes as we adjusted and perfected, analyzing every part of the skill, picking it apart. Miraculously, it made the difference. We began to see results, and I felt uplifted and light with this newfound piece of the puzzle, the one that I had been missing for two long and heartbreaking years. As I did the skill, again and again, successfully, I began to wonder: Could it really happen? Could I make a beam routine at a competition?

I had no expectations as I walked into the first meet of the season. I was so used to the lower scores and placings that I was rarely overly disappointed with their presence. I found the meet to be fun and relaxed. I wasn't my usual tense self. I had decent performances on my first two events, vault and bars. When I got to the beam, I practiced my back extension roll numerous times on a lower beam, too busy to stress or worry. In the back of my mind, I still wondered if this could really be possible. It had been so long since I had made a beam routine, it was like a dream that I didn't think I was allowed to touch. As my turn to perform approached, I shook off all my last nerves. What the heck, I thought, I'll go give it a shot. And suddenly I was up. I did not shake much when I first mounted the beam. My dance was sharp and I could feel the gazes coming from the judges' table, picking apart my moves and placing a number on them. When I came to the back extension roll, I paused for a second, thinking everything over carefully, knowing that I had one chance and it was now. I went for it, and to my surprise I landed back on the beam. I was on the beam. Intense pride and happiness rippled through me as I came to the realization that I had just done what had been impossible for me for the past two years. I was so startled that I laughed aloud right there and then, in the middle of my routine, in front of the observant eyes of the judges. I finished the rest of the routine with a smile stretched across my face, a new energy added to my moves, and a new shakiness as well. Now I really cared, I wanted to make this beam routine more than anything. I heard the bell ding, clarifying that I had ten seconds left to finish the routine, just as I lunged forward into my dismount, pleading inside my head to make this one last skill. I landed it, saluted, and ran straight into Bri's arms. I was ecstatic.

Now I am past level 6, for good. I made my beam routine at more than half of my meets that year. I was the only one to compete a back extension roll on beam, and might I add, make it. I can look back on that year, at the joyful memory of my startled laugh during that first routine of the season, and my irrepressible smile as I came off that beam, accomplishing all that I had dreamed about for the past two years. This one short memory stands out so much more vividly than those first two years combined, and it validates all the hard times that I experienced as the dedication that led up to that one unforgettable moment. However, I also cannot forget how the difference was made. Before, I had stood on that beam avoiding what lay ahead of me, and watching the others as if I was behind a wall of glass. I was alone. But that day in the gym, the day when Bri had persisted that I do back extension rolls again, I was no longer alone. It's a victory that I have to share, and that has made it all the more gratifying.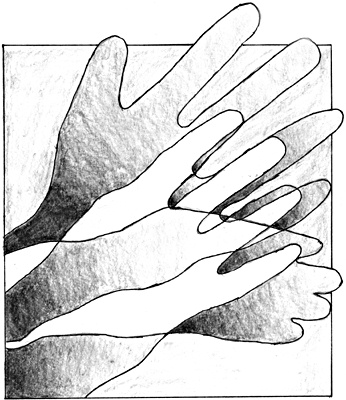 © Dawn Grace R., Barrigada, Guam