Words Fail; When Describing Dear Evan Hansen
April 16, 2018
"Words Fail" When Describing Dear Evan Hansen
"Dear Evan Hansen, today is going to be a great day and here's why because today, today at least you're you and that's enough." On December 4th, 2016, one of Broadway's most groundbreaking musicals opened its doors to the public. Since then, the show has taken off, winning six Tony awards including Best Musical, and it has further touched the lives of citizens all over the world. The makers behind the magic, Justin Paul and Benj Pasek, have written beautiful music that is not only amazing but also reaches the hearts of many. Dear Evan Hansen is the story of a teenager, Evan, who has struggled with social anxiety his whole life. In the beginning of his senior year, a boy in his school named Connor Murphy takes his own life, and Evan fakes a friendship between them in an effort to try and comfort the grieving Murphy family. Consequentially, he finds himself becoming closer with Connor's family, discovering that they are like the family he never had but always wanted. Evan traps himself in a web of lies, and he is unsure of what to do. Evan's issues with anxiety are parallel to the experiences of many others in the world, always looming over his head and making him feel isolated and fearful of everything. The show hits home for many, and it is a story that helps those people find comfort and security in knowing they are not alone.
Dear Evan Hansen has been running on Broadway for a little over a year, and the show has yet to decrease in popularity. Evan Hansen as a character has maintained such a strong impact on today's youth, and he is someone whom people can empathise with. According to an article by Slate.com, it is expressed, "[..] he's drawing passionate young crowds who shed buckets of tears every night in sold-out houses where the electric atmosphere is Hamilton-level" (Zinoman). Through this "electric" atmosphere and the positive feedback from the audiences, it is proven that Evan helps people to realize that their battles are only impossible if they make them out to be. He is an empathetic character, one that many can relate to.
While Evan has many positive attributes, he also has negative flaws. What is recognized as Evan's major downfall is his web of lies. As the story progresses, his lie about being best friends with Connor Murphy becomes more elaborate, and soon enough he is stuck living a lie full time. With Dear Evan Hansen being the first musical to portray the issues of social media and the negativity of the Internet, it is strange that the audience feels the most sympathy for the character who exploits the Internet. Although Evan as a character has received some unfavorable criticism from the media, the positive appraisal strongly outweighs it. Evan is the much needed person who reaches out to people and gives the message that they are not alone. The show itself has also received many positive critiques. Written by a theater critic in an article from the Chicago Tribune, it is said:
Dear Evan Hansen is the first great American musical about social media — a democratizer, comforter, amoral facilitator of witch hunts and general pox Americana that has upended everything from family mealtime to who gets to occupy the Oval Office. (Jones)
This quote shows how effective Dear Evan Hansen is, and also how influential. People from all walks of life have been affected in different ways by this musical, and they also are strongly influenced to make betters choices concerning their own social media tendencies. Dear Evan Hansen truly is the first musical to deal with the topic of social media and the level of controversy that social media produces. Through Evan, the writers of the show have displayed the true dangers of social media, and that support in one's life is the one thing that will keep one away from those dangers.
The writers accurately display those horrific dangers of social media through the secluded character that is Evan Hansen. Evan is an isolated teen, one who struggles greatly with social anxiety and insecurity. He lives alone with his mother, who is often never home due to working multiple jobs. Because of his constant feeling of loneliness, Evan turns to social media, where many kids can experience a sense of belonging. Evan was not advised by anyone, there was no one to support him during his battles with anxiety, and as a result he creates a fake life as Connor Murphy's best friend. Although Evan's web of lies was awful and he made many mistakes, by creating this "friendship," he opened up to many and finally overcame his major bouts with social anxiety. According to an article written by Randi Ziegler from the health website Spoon University, the musical gives a voice to the fact that anxiety can eat a person alive, but that people should be knowledgeable of the constant light that is there. Evan's character reminds people of that light. Through the song "You Will be Found," Evan lets people know that they are not alone. Dear Evan Hansen is the first musical to face the issues of social media head on, and its message sends waves across the nation, helping anxiety stricken people to overcome their tension and struggles. People can find solace in the fact that they are not alone, and with Evan's reminders they no longer have to search for that solace.
Evan Hansen is an influential character no doubt, so an actor who can make Evan's message come alive on stage every night is necessary. Played originally by Ben Platt, Evan Hansen took his true form. Platt portrayed the anxiety stricken 17 year old character stupendously through his emotional and physical exertion on stage every night. According to an article from the New York Times, "He conveys such longing and loneliness and guilt and shame in those songs, with his voice, of course, but also through the pained contortions of his body and face" (Lovell). Platt was the originator of Evan, constantly striving to embody the character more and more through each performance. With such an outstanding original lead, the producers of Dear Evan Hansen needed to find a spectacular replacement for when Platt released that he would be leaving the show. The producers came across Noah Galvin, who previously had starred in The Real O'Neals on ABC. Galvin was an amazing successor of Platt, but did not stay in the show for long. He was followed by Taylor Trensch, who had been performing in Hello, Dolly! before his debut in Dear Evan Hansen. Trensch has received much praise for his portrayal of Evan, and some critics have even praised him more highly than Platt. In a similar article from the New York Times, written by Jesse Green, it is said, "He is more naturalistically and intermittently troubled than Mr. Platt was, more apprehensible as an actual 17-year-old". Although many miss Platt gracing the stage every night with his heart wrenching performances, others praise Trensch for his new adaptation of Evan as a character. Trensch embodies the fragility and nervousness plaguing Evan Hansen's character very well as the musical brings in a larger audience each night.
Overall, Dear Evan Hansen is a groundbreaking musical. With its dedicated cast and developed characters, it brings new light to Broadway. That light is spearheaded by the star himself, Evan Hansen. Evan is crushed by anxiety, isolated from other students at school and not watched over properly. He is the friendless teenager who is trying his best to survive through his struggles, embodying the average high school teen. He strives to reach people who feel alone in the world, and his purpose is to remind the audience that they are not alone. Evan is portrayed through the different actors that have played his distinct character in different ways, but in the end his compelling and important message shines through. Evan emphasizes in his song "You Will Be Found," "Even when the dark comes crashing through, when you need a friend to carry you, and when you're broken on the ground, you will be found".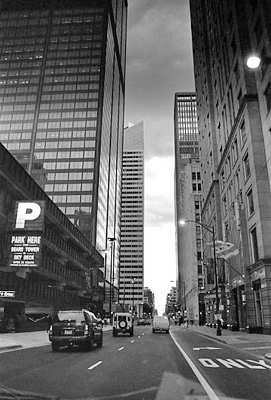 © Alexandra K., Chicago, IL