Queen of The Damned
April 7, 2010
Queen of The Damned was let into world, via theater for the movie, in later 2001 – 2002. It was directed by Micheal Rymer, abd written by Scott Abbot, Micheal Petroni and of course, Anne Rice. Though, despite my ever lingering thoughts about Queen of The Damned (The movie), and how it churned my stomach, nearly to the point of inducing vomit, I enjoyed the book very much.

Anne Rice's vampires have created a cult of following. The wide variety of websites and information available about these characters is a good indication of their popularity. People are looking for something to follow, someone to admire, and many have associated these feelings with the vampire Lestat. He offers a way for people to explore deep questions and to live on the edge of life, without actually taking the risks themselves. Lestat experiences many things that mortals have experienced and he continues to live on. It gives us hope that we will one day reach a place of contented bliss, even though Lestat never reaches it himself. Many people are fascinated with the idea of immortality. Often people say that they would like to live forever, but it is also comforting to know that it will never happen. I think that this is also a way of exploring our own beliefs about death and the afterlife.

The plot of Queen of The Damned is extensive and complex. The first part of the book tracks several different people over the same period of several days. We are introduced to several new mortals and vampires: Pandora, Jesse, Mahret, Khayman, Eric, and David Talbot. We also see several characters from the earlier books: Armand, Daniel (The boy reporter of Interview with the Vampire), Marius, Louis, Gabrielle and Santino. Each of the six chapters of the first part tells a different story about a different person or group of people. Two things unify these chapters: A series of dreams about red-haired twin sisters who live in ancient times and are witches, and the fact that some powerful being is killing vampires around the world by making them spontaneously combust. Pandora and Santino go to rescue Marius, who has been telepathically calling for help and trying to warm others of some great approaching danger. As they arrive at his home in far north, they find him buried under ice. They learn that Akasha has been awakened by Lestat's rock music. She has destroyed her husband Enkil and hatched a plot to rule the world. It is Akasha who has been killing the other vampires, trying to reduce the undead to a small number of vampires totally loyal to her.

The second part of the book takes place at Lestat's concert. Jesse is mortally injured and is taken to Maharet's Sonoma compound, where she is made into a vampire and where the rest of the vampires from the first part congregate. The only missing ones are Akasha and Lestat. She has kidnapped him and takes him on a whirlwind tour of the world, inciting women to kill the men who have oppressed them and trying to convince him to be her consort.

The third portion of the book takes place at Maharet's home in Sonoma, in the middle of a giant forest. There she tells the story of Akasha and the red-haired twins, who are in fact Maharet and her sister, Mekare, to Pandora, Jesse, Marius, Santino, Armand, Daniel, Louis and Gabrielle. Also present are Mael and Khayman, both of whom already know the story.

I cannot include the fourth and final part of the story because it contains too many spoilers.

The main reason I do not like this film is the 2002 film deviated from much of this storyline (stated above), and killed off some of the characters, including Pandora. In the novel, none of those gathered at Sonoma died besides one person. The characters of: Mekare, Santino, Daniel, Louis, Gabrielle, and Eric doesn't even show up in the movie. It also provided some of the backstory that in the books is given in the Vampire Lestat; for instance, Lestat's meeting if Marius and discovery of Those Who Must Be Kept. However, this backstory is also significantly altered. For instance, Marius, not Magnus, is Lestat's maker in the movie.

As stated in the paragraph before, the movie is not as amazing as the book. It is missing some of the key ingredients from the book that would have made it great, but all movies based after books do. Though, not to discredit Anne Rice's work, I feel she has somewhat lost some of her touch after making this piece of fantastic literature into a movie. It's disgusting really; how an author of such stature can go to utter crap due to a simple film. Regardless, she has moved on to Christian books, so we will not have to worry about her trashing another book by turning it into a film. Unless of course she can wrect the crucifixion – Then again she would probably try.

Rating: 1 – 10 bites.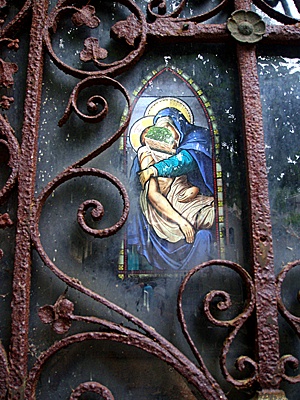 © Rebecca Y., Los Angeles, CA